Students eagerly await "Shadow and Bone" season two
Author Leigh Bardugo's Grishaverse novels recently came into the public eye when they were adapted into the Netflix show "Shadow and Bone" just last year. The show follows the book trilogy of the same name, as well as the subsequent "Six of Crows" and "King of Scars" duologies. Season one, which premiered in 2021, revolves around the war between the nations of Ravka, Fjerda and Shu Han, as well as external countries like Kerch. At the same time, Ravka faces a civil war instigated by General Aleksander Kirigan (Ben Barnes), an immortal "Shadow Summoner" also known as the Darkling. All of this is complicated by the Fold, a shadowy rift dividing Ravka that is infested with monsters called Volcra.
More specifically, season one focuses on the growing influence of Alina Starkov, a Shu-Ravkan cartographer who finds out that she is a "Sun Summoner" Grisha with powers mirroring Kirigan's. Under the guise of training Alina, Kirigan isolates her from her lifelong friend Malyen Oretsev and exploits her magic to fuel his own.
Meanwhile, the Crows—Kerch gang members mastermind Kaz Brekker, spy Inej Ghafa and gunslinger Jesper Fahey—attempt to kidnap Alina for a monetary reward. They plan to team up with Nina Zenik, a Grisha double agent, and Matthias Helvar, a former Fjerdan Drüskelle soldier, but are sidetracked when they are betrayed by the smuggler helping them cross the Fold; the two parties never meet.
Attempting to take control of the Ravkan government, Kirigan uses Alina to expand the Fold, massacring a city. After Alina and the Crows escape Kirigan and leave him for dead, they part ways and return to their respective war-stopping and crime. In the final moments of season one, Kirigan crawls out of the Fold with an army of Volcra, setting the scene for season two.
"I'm really interested to see what happens going forward."
As of June 2021, season two has been approved for eight episodes, each lasting roughly an hour. Production began on January 12 in Budapest, Hungary, the filming site for Ketterdam and Os Alta—a sign that these two locations will be prominent in the plot.
In addition to the original cast, the showrunners have added four new members to season two. Jack Wolfe will fill the role of Wylan Hendriks, a member of the Crows and (in the books at least) Jesper's future boyfriend. Patrick Gibson will join the cast as Nikolai Lantsov, a Ravkan prince and privateer known as Sturmhond. Anna Leong Brophy and Lewis Tan are set to play Tamar Kir-Bataar and Tolya Yul-Bataar, respectively: twin Grisha mercenaries working for Nikolai.
According to well-receiving fans like sophomore Mirabel Fradkin, these new additions to the cast are fitting.
"I think they cast the perfect Wylan, Tolya and Tamar—they seem to fit the book descriptions [of the characters] very well, especially Wylan. Nikolai isn't what I imagined, but I'm excited to see how the actor will portray him," Fradkin said.
Other students, like sophomore Grace Chulapakorn, agree that while Gibson is an unexpected casting, he isn't necessarily a bad one.
"Folks were definitely expecting somebody else to be cast as Nikolai, though I'm sure that the entire cast's chemistry is going to be splendid," Chulapakorn said.
The returning cast will also face some changes. Zoya Nazyalensky (Sujaya Dasgupta), a Grisha and queen of Ravka, will appear much more frequently, building up her backstory as the plot shifts to include more of the contents of the "King of Scars" duology. She will be accompanied by Genya Safin (Daisy Head), a Grisha who works for Zoya. Other potential regulars include Nina (Danielle Galligan), and Matthias (Calahan Skogman), who will be rejoining the Crows.
The potential of developing Zoya's character has piqued the interest of fans like senior Tara Sandman-Long. For Sandman-Long, this character development is what keeps the show interesting.
"I think the actress [who plays Zoya] did a really good job making her multidimensional even with so little screen time. You meet her through different lenses: first as a powerful Grisha, then as a cruel rival and then even an ally. I'm really interested to see what happens going forward," Sandman-Long said.
These hints about casting and plot reflect "Shadow and Bone" shifting away from Alina's storyline and onto Bardugo's two duologies. A central focus may be on the "Siege and Storm" duology, which follows the adventures of Nikolai, as well as on the origins of the final six Crows—Kaz, Inej, Jesper, Wylan, Nina and Matthias—in the "Six of Crows" duology. However, it is unlikely that the Crows will see much more than their origins in the coming season. In their duology, they embark on another international heist, which would be difficult to incorporate into season two based on the sheer amount of filming and plot already revolving around Ketterdam.
However, Alina and Kirigan will still remain prominent in season two. While Kirigan will maintain his villain status, Alina will likely be separated from Mal again, staying true to Bardugo's books. According to Jessie Mei Li, the actress who plays Alina, Alina is likely going to physically deteriorate from the stress of the season, with her hair turning white or gray; conflicts between her and Kirigan will also potentially become more violent and gruesome.
Naturally, plot points revolving around these familiar characters from season one, as well as their new literary counterparts, is a draw for viewers. Their speculations revolve around consistent plotlines between seasons and novels alike.
"I think the Darkling will remain the main overarching villain, yet will primarily be the antagonist of Alina and Mal's journey. I'd like to see more of Ketterdam, possibly the Ice Court [in Fjerda], and the entire Crow gang together on a heist. Seeing Kuwei [a character from the 'Six of Crows' duology] and the 'Wesper' moment would be pretty nice too," Chulapakorn said.
This easily-envisionable mix between scores of characters indicates that their futures will stay intertwined and true to Bardugo's books. The main writer of "Shadow and Bone," Eric Heisserer, also confirmed that the show's full plot will hopefully extend past two seasons and encompass all seven Grishaverse novels, as well as numerous accompanying short stories. Overall, this paints a long-term picture of a show continuing to produce new content—one that viewers eagerly anticipate.
"I want the show to cover all the books as much as possible—'Shadow and Bone,' 'Six of Crows' and 'Rule of Wolves.' I think there's a good chance [of more than two seasons] since it would be weird to leave off in the middle of the characters' storyline, and it has an ever-expanding fan base, so it'll probably be fairly in demand or supported," Fradkin said.
Your donation will support the student journalists of Walter Johnson High School. Your contribution will allow us to purchase equipment and cover our annual website hosting costs.
About the Contributor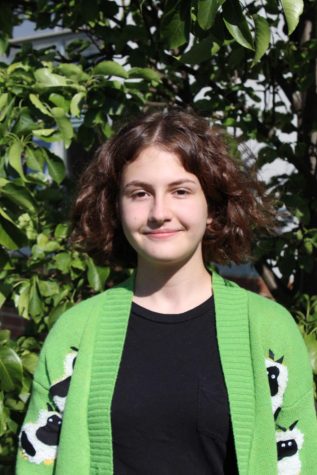 Sophia Meytin, Staff Writer
Sophia Meytin is a senior at Walter Johnson, and this is their first year on the Pitch. Outside of school, they enjoy baking, gardening, and singing in...