This summer's top albums: a review
Summer has always been a time of blockbuster music releases, and this year was no exception. Multiple big names have returned after years of hiatus and new ones are emerging in the fold. Hundreds of releases have flooded the markets between the end of last school year and the beginning of this year, but four albums have managed to stand out of the crowd.
1. Beyoncé – "RENAISSANCE"
The last time Beyoncé released an album, I was in third grade. Now, shortly after the release of "RENAISSANCE", I'm entering my second year of high school. Beyoncé's presence in the music industry was sorely missed and the popularity of this album exemplifies that. Less than two months after it was released, "RENAISSANCE" has racked up over 620 million Spotify streams. The album also sold nearly 200,000 copies in just its first week. Beyoncé's return is full of music meant to dance to and exemplifies exactly why she's one of the world's biggest stars.
Standouts:
ALIEN SUPERSTAR – It's an understatement to say that this song does not fit my typical taste. Despite this, I can't help but love it. On this dancefloor-influenced track, Beyoncé emphasizes just how big of a star she is. In the song's pre-chorus and chorus, she says it best: "…I'm the bar/Alien superstar/I'm too classy for this world, forever, I'm that girl."
CUFF IT – On one of the album's more laid-back tracks, Beyoncé's vocals shine. With an upbeat, funky groove that features various brass instruments, the song draws you in and never quite lets go. While it's not as hard-hitting as other tracks, "CUFF IT" plays its role as a song beautifully.
2. Megan Thee Stallion – "Traumazine"
From the start of her career, Megan Thee Stallion has taken the music industry by storm. With her unapologetic confidence and skill, she's amassed a large following of devoted fans. Her first official album, "Good News", was released all the way back in 2020 to critical acclaim and countless streams. She followed this release with a compilation album, "Something for Thee Hotties", in 2021. Unlike in the past, Megan Thee Stallion hasn't created a specific alter-ego for this release, instead opting to delve deeper into her own persona. The album has its strengths and its weaknesses, but Megan Thee Stallion's skill and conviction make the release impossible to ignore.
Standouts:
Anxiety – Rapping over an upbeat instrumental, Megan Thee Stallion touches on grief, stress and naturally, anxiety. Megan Thee Stallion has said that during a particularly rough day, she was "gonna write… like, in a diary" but decided to use her emotions to create a song instead. The song manages to touch on difficult topics while still staying positive, a difficult feat that is achieved perfectly.
Plan B – On this 90's influenced track, Megan Thee Stallion is in her element. The lyrics ooze with the confidence present in her previous releases. Of all the album's tracks, this is the one I've come back to the most; it never gets old.
3. Steve Lacy – "Gemini Rights"
Prior to "Gemini Rights", Lacy was no stranger to success. He started off with alternative R&B band The Internet, wrote for and collaborated with several famous artists including Kendrick Lamar and released several solo projects such as the popular single "Dark Red". With this drop, Lacy stays with his distinct R&B sound, blending polished vocals and relaxed instrumentals. The album flows smoothly from song to song; it's the epitome of mood music.
Standouts:
Bad Habit – On the album's most popular single, Lacy's simplicity shines. With catchy lyrics and a dreamy instrumental, the song's virality isn't much of a surprise, but it's still astounding. The track reached #2 on the Billboard Hot 100 and has been a mainstay in Spotify's daily and weekly streaming charts for the U.S. It's already well on its way to becoming Lacy's most popular track. "[Although] the lyrics are repetitive… I feel like there's a different meaning every time [and] the tone slightly changes," said junior Sara Karbowski about her enjoyment of the song.
Mercury – With a bossa nova influenced-instrumental, this track features Lacy branching out while still remaining maintaining his R&B influence. His distinct vocal style and tone journey through lyrics on double-sidedness and a breakup, adding to an already incredible soundscape.
4. JID – "The Forever Story"
Outside of his feature on Doja Cat's 2021 track "Options", I had never heard any of JID's discography prior to when "The Forever Story" came out last month. I can very much say that I was missing out; this album is already one of my favorite releases of this year. With 15 songs, JID covers an impressive amount of musical territory, utilizing both his rapping and singing to create an enjoyable variety of laid-back, emotional and heavy-hitting songs. A strength of this release is that JID includes samples and interpolation throughout, such as the sampling of football commentary in "Raydar", vocal snippets of Aretha Franklin in "Surround Sound", and a recording of JID's family singing at his grandmother's funeral in "Kody Blu 31."
Standouts:
Raydar – The album's first full-length track is its best. The song begins with pumped up chanting, then jumps right into the fast-paced and lyrically focused style fans have been missing since The DiCaprio 2. "Raydar" undergoes four beat-changes, all of which JID handles with mastery. He raps aggressively, fitting seamlessly with the instrumental. The song's sampling of sports commentary and crowd noise accents JID's powerful verses.
Surround Sound ft. 21 Savage and Baby Tate – Inarguably the most popular track off the LP, this song doesn't disappoint. It opens with an Aretha Franklin sample that continues to be used throughout the track both as an interlude and as part of the backing instrumental. JID's verses and chorus set a tone for the song, simultaneously unrelenting but smooth. The collaborating artists shine as well; 21 Savage's voice and delivery are incredibly distinctive and fit well with the song's mood and Baby Tate excellently lends her vocals for the song's bridge.
Your donation will support the student journalists of Walter Johnson High School. Your contribution will allow us to purchase equipment and cover our annual website hosting costs.
About the Contributor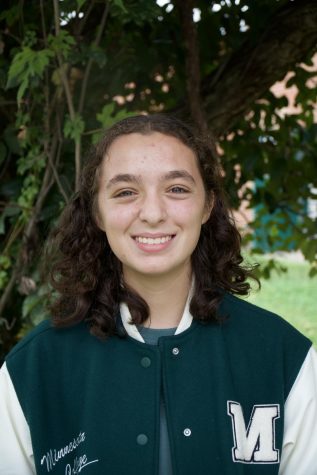 Mia Halper, Copy Editor
Mia is a Copy Editor for the Pitch this year. It is their first year on Pitch. As a hobby, they play the drums.