Modern artists doing concert residencies at venues
Live music is bigger than it's ever been, especially after a two year shutdown of all events. In early 2020, every artist had to cancel world tours due to the lockdown. As a result, they had lost a large income stream. As restrictions slowly lifted, many began to find their footing once again on tour. However, artists with a large fanbase before the pandemic found a much more stable way to perform live.
Concert residencies have been a Las Vegas staple for ages, from the 40s and Frank Sinatra, to the early 70s with Elvis Presley on stage. In the past, Vegas was where artists go toward the end of their careers. Elvis famously played 837 consecutive shows, earning both millions of dollars and extreme exhaustion. With this, the allure of residencies was steered toward teetering artists that needed money. After most COVID restrictions were lifted, the idea of financial and mental stability became feasible.
Sophomores Anna Kotek and Arielle Zisman attended two different shows at Madison Square Garden for possibly the most popular artist in the world: Harry Styles.
Styles has been participating in residencies for the past two months and will continue to do so until November 7th. He is currently on the road performing two shows in Toronto, six shows in both Austin and Chicago and 15 shows in both New York and Los Angeles. On top of this, he just finished the end of Love on Tour in July for his previous album "Fine Line". After the massive undertaking of a UK and European tour, it makes sense that his team would want the consistency of being in a single city for more than one night.
Here lies the benefit of residencies: A tour relies on hundreds of people to put together a show for one night, while staying at a single venue is much cheaper for light and stage crews than packing up after every show and shipping the contents to another stadium or theater. This sense of stability doesn't translate to the fans, who now have much greater travel distances to the venues than before. Kotek and Zisman went to shows in Styles' New York leg, which was at Madison Square Garden.
"It was awful because I did not want to go to New York, but I'm glad that he played 15 nights because it was easier to get tickets," Zisman said.
However, the quantity and repetition of shows may result in a less satisfying or genuine experience. Often the repeated nature of the concerts leads to fans expecting something new from each show, and artists can't always deliver.
"[I went] night 12…it wasn't really a special night," Zisman said.
Anna Kotek saw Harry on his ninth night and made a point about the artist's perspective on residencies.
"
Everyone comes to you so it's easier for [the artists]. You could tell on stage he was trying to put energy into things but he couldn't because he's replaying all these songs over and over again [night after night].
— Anna Kotek
This brings up another reason for these single venue runs: The pressure piling on top of artists. Only as of late has the music industry truly begun to take bands' and solo artists' mental health seriously. Rock artist Sam Fender, who paused his tour this summer, addressed this issue in an Instagram post.
"It seems completely hypocritical of me to advocate discussion on mental health and write songs about it if I don't take the time to look after my own mental health… I'm sadly going to have to take some time off the road," Fender said.
With this, it makes sense that artists prefer residencies over massive world tours. Though audiences need to travel further, the artists still want to put on the best show possible for their fans.
Your donation will support the student journalists of Walter Johnson High School. Your contribution will allow us to purchase equipment and cover our annual website hosting costs.
About the Contributor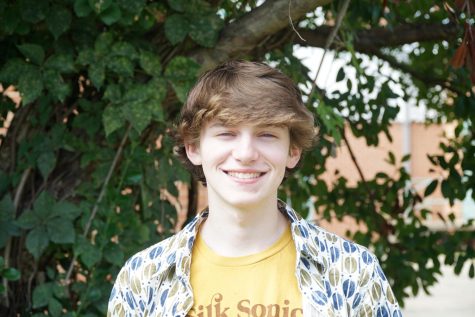 Matthew Ashman, Staff Writer
Matthew Ashman is a senior and Staff Writer for The Pitch. At WJ he is a Drumline Captain and Acapella leader. Professionally, he is a multi-instrumentalist,...