The force propelling the magical costumes behind S*T*A*G*E's "The Twilight Zone"
On a whim, sophomore Rey Guteirrez-Micallef approached the S*T*A*G*E booth at a club advertising event after noticing another student standing there wearing cool platform shoes. Upon talking to her more, she decided to join the costume department and eventually worked her way up to become the costumes crew chief in her junior year.
Guteirrez was always drawn to the costume department.
"I didn't think I'd be good at all the other stuff like lights and carpentry and sound. So it was between that or props," Guteirrez said.
Since joining S*T*A*G*E, she has made costumes for three of their productions: "Twelve Angry Jurors," "Shrek" and "The Twilight Zone." With costumes ranging from science fiction to 1950s attire, each production provided new and unique challenges for the costumes department.
"This year for 'The Twilight Zone,' I had to make a clown costume from scratch. I had help from my crew members, but I did a lot of the work for that. It was kind of my Magnum Opus. I also made these sparkly alien shoes for 'The Twilight Zone.' I'm very proud of them," Guteirrez said.
Guiteirrez doesn't just bring her costumes to stage, though. Her leadership skills also help bring the production together.
"She's very prepared, especially when it comes to costumes, so working with her as Special Effects Chief has just been a joy," senior Blue Laubach said.
Many students recognize Gutierrez due to her very unique sense of style. Her distinctive outfits include bold statement jewelry, fishnets and her signature blue hair.
"I take a lot of inspiration from the music I like and it's a big reflection of what I wear. I like hyperpop a lot. I also enjoy seeing how people build off of others' styles. I like trying to make an outfit while also trying to incorporate some elements of another person's style," Guteirrez said.
Throughout her time at WJ, Gutierrez's style has evolved alongside her work in S*T*A*G*E.
"Last year, I had a really heavy, weird, goth, e-girl thing going. I would wear platform shoes everyday last year which was fun but impractical. I also wore lots of mini skirts and gigantic eyeliner. It was a little silly," Guteirrez said.
In terms of how her personal style influences her work in costumes, Gutierrez denied all correlation.
"It doesn't influence my work in costumes at all. The theater director vetos any costumes that she doesn't like or she doesn't think match the theme properly, so I don't get a lot of creative liberty," Guteirrez said.
While cast member and senior Destini Haith agreed that so far Guteirrez's personality hasn't come through as much, she still has hope for the next production.
"I haven't had the chance to see much of her style yet, but we're doing "The Addams Family" for the spring show and I know for a fact that she's going to be able to hone in on her alternative style and bring that through for the costumes in the show," Haith said.
Even though Guiterrez doesn't always get the freedom she would like when it comes to making costumes for the show, it's still a really important role for her.
"Costumes do more work than you would think. They make the show time period accurate and make all the little details pop. I think it really adds a lot to the show to have small details on costumes," Guteirrez said.
Your donation will support the student journalists of Walter Johnson High School. Your contribution will allow us to purchase equipment and cover our annual website hosting costs.
About the Contributor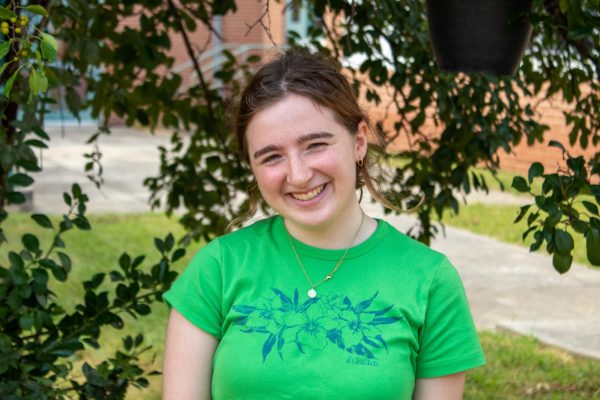 Ada Hillman, Online Managing Editor
Senior Ada Hillman is excited for her first year on the Pitch as Online Managing Editor. In her free time she enjoys watching movies and seeing her friends....