2022's top albums, ranked
Countless artists have released albums spanning countless genres throughout 2022. There were many gems, but eight of these albums shine brighter than the rest.
8. Hippo Campus – "LP3" (Feb. 4) Favorite tracks: "Semi Pro", "Boys"
Over this summer, I got a chance to see Hippo Campus and some of the songs off of "LP3" live. I had listened to some of their songs before and enjoyed them, but this album simply hadn't solidified itself for me yet — I was very on the fence about it. This concert, though, completely wiped away my doubts. Hippo Campus makes enjoyable music and this album is no exception. Their sound features blends of indie and alternative rock and pop, varying between folk and more upbeat tracks. "LP3" is a truly entertaining release.
7. Beyoncé – Renaissance (July 29) Favorite tracks: "CUFF IT", "ALIEN SUPERSTAR"
The last time Beyoncé released an album, I was in third grade. Now, shortly after the release of "RENAISSANCE", I'm a high school sophomore. Beyoncé's presence in the music industry was sorely missed and the popularity of this album exemplifies that. Beyoncé's return is full of music meant to dance to and demonstrates exactly why she's one of the world's biggest stars. "ALIEN SUPERSTAR" is energetic, powerful and proves exactly why Beyoncé is the star she is. Internet sensation "CUFF IT," my favorite from the album, is a more laid-back, R&B track — quite the change from "ALIEN SUPERSTAR." The album treads this line, bouncing back and forth from genre to genre, while still managing to be cohesive and incredible.
5/6. LE SSERAFIM – "FEARLESS" (May 2) + NewJeans – "New Jeans" (Aug. 1) Favorite tracks: "FEARLESS", "Blue Flame" + "Attention", "Hype Boy" (respectively)
I'm putting these two together as neither of them are full-length albums. Despite their shortness, they deserve consideration amongst the top releases of the year.
LE SSERAFIM's debut release "FEARLESS" starts off with opening track "The World Is My Oyster", which features a heavy dance-beat instrumental and the members speaking in their various native languages, including Japanese, Korean and English. It's a strong, intriguing start to the EP. Lead track "FEARLESS" follows with a lighter approach: it's a solid pop track, catchy and enjoyable. The album's other tracks are where it shines. Each represents a different sound, from the R&B-influenced "Sour Grapes" to the dance-pop track "The Great Mermaid." "FEARLESS" is a suitable introduction to the music scene and LE SSERAFIM performs it perfectly.
NewJeans' first EP is full of earworms. Bouncy pre-release single "Attention" heads the crowd, with the addictive "Cookie" close behind. Tracks "Hype Boy" and "Hurt" fill the remaining run-time suitably, providing a catchy pop track and a polished ballad, respectively. With Y2K and R&B influences present throughout, this short release is enjoyable from start to finish.
4. Rosalía – "Motomami" (March 18) Favorite tracks: "CHICKEN TERIYAKI", "BIZCOCHITO"
Rosalía's "Motomami" is at its best when it's eclectic and addictive. Take "BIZCOCHITO", for example. Every part of my brain wants to dislike this song; it's repetitive and borders on annoying, but for some reason I adore it. Rosalía has her more relaxed moments on this release, such as "HENTAI" and "COMO UN G", which are strong and more palatable for most, but I far prefer the more acquired tastes featured on the album. The release features various genres, encompassing reggaeton, bachata, hip-hop, flamenco, pop and more. It's a strong effort from an artist who has now established herself in the musical realm.
3. SZA – "SOS" (Dec. 9) Favorite tracks: "Kill Bill", "Love Language"
SZA's first album in five years is a masterstroke. It keeps with SZA's signature R&B sound, but includes splashes of pop, hip-hop, rock and various other genres. The five year wait seems quite worth it when looking at this album. It has had incredible commercial and critical success and has spent an entire month atop the Billboard 200 chart. It has faced similar success within my playlists; lead single "Kill Bill" has remained one of my most played tracks in the month since the album's release. The only reason I have this album in the third spot is because of its recency — I'm sure that its tracks will hold up over time, but one can never be sure.
2. JID – "The Forever Story" (Aug. 26) Favorite tracks: "Surround Sound", "Crack Sandwich"
JID's rapping is consistently impressive. He glides on beats, rotating relaxed and aggressive delivery with incredible results. On this release, JID covers an impressive amount of musical territory, utilizing both his rapping and singing to create an enjoyable variety of laid-back, emotional and heavy-hitting songs. One of my favorite aspects of this release is the inclusion of samples and interpolation throughout, such as the sampling of football commentary in "Raydar", vocal snippets of Aretha Franklin in "Surround Sound" and a recording of JID's family singing at his grandmother's funeral in "Kody Blu 31." JID showcases his range and prowess continuously on this album, establishing it as one of the year's best releases.
1. Kilo Kish – "American Gurl" (March 25) Favorite tracks: "AMERICAN GURL", "BLOODY FUTURE"
I can't explain quite why I love this album as much as I do. Maybe it's the consistency: it's a concept album set inside a retro video game, making the songs cohesive, and it's enjoyable throughout its run time. Or maybe it's how different this album feels. Kilo Kish has a very unique sound — she is placed under the umbrella of "art-pop" and her music certainly feels artistic. The songs on this project are diverse in genre; this is an album you must listen to in order to truly understand. I can't recommend this album, as well as Kilo Kish's other works, enough.
Honorable Mentions:
FKA Twigs – "Caprisongs" (Jan. 14)
Charli XCX – "Crash" (March 18)
Harry Styles – "Harry's House" (May 20)
beabadoobee – "Beatopia" (July 15)
Lolo Zouaï – "Playgirl" (Oct. 14)
Taylor Swift – "Midnights" (Oct. 21)
Your donation will support the student journalists of Walter Johnson High School. Your contribution will allow us to purchase equipment and cover our annual website hosting costs.
About the Contributor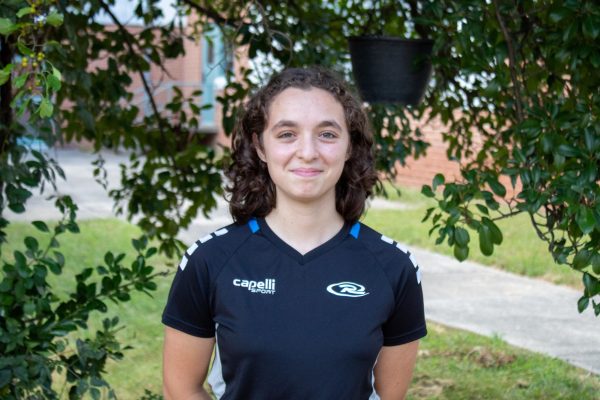 Mia Halper, Senior A&E Editor
Junior Mia Halper is thrilled to be in her third year with the Pitch as Senior A&E Editor. She's an avid fan of the Washington Capitals and plays soccer.