Movie review: M3GAN
Millions of views across Tik Tok and social media have led "M3GAN" (2023) to become one of the biggest phenomena of the new year. The film notably features Violet McGraw as the young lead Cady, Blumhouse veteran and "Get Out" star Allison Williams as the workaholic Aunt Gemma, Marvel alum Ronny Chieng as the overbearing boss David and Jenna Davis as the voice of the fashionable killer robot. "M3GAN" had a budget of 12 million dollars and has neared 150 million at the box office since its release on January 6.
The film follows the traumatized child Cady, who is forced to move in with her Aunt Gemma after a tragedy ending the life of her parents. Gemma works as a manufacturer for a large toy company, named "Funki". Bored with the superficial projects she is routinely assigned by her boss, Gemma and a few associates embezzle company dollars and work in secret on their prototype for M3GAN (Model 3 Generative Android), which they hope will be a permanent companion for children and replace the need for any other toy. After realizing that M3GAN could be utilized in her own home, Gemma introduces the lifelike robot to Cady, who quickly befriends it.
The premise of a children's toy with murderous intent has been attempted many times since the cult classic "Child's Play" (1988), and this formula has shown success. "M3GAN" (Megan) finished behind only James Cameron's "Avatar: The Way of Water" for the third straight week at the box office.
For a movie with such a focus on murder and from a horror studio as acclaimed and chilling as Blumhouse, many were surprised by M3GAN's PG-13 rating.
As with any genre, there are an array of sects and categories within horror, and for every blood-curdling horror such as the Terrifier franchise, there is a tamer, palatable film suitable for slightly older families. "M3GAN" underwent numerous reshoots to secure such a distinction, as director Gerard Johnstone opted to lean away from sheer gore and delve further into scares via sound design and sheer suggestion.
While the film certainly has its gut-wrenching moments, the lack of gore is the biggest knock on the film, which is an obvious side effect of the younger rating, and fans of messy, in-your-face horror will likely walk away a little unsatisfied. Every death at the hands of the robotic slasher is foreseeable and bloodless, usually taking place off-screen and accompanied by an inorganic "slash" or "thud". However, at the same time, the film excels in various elements of storytelling, thrill and campy violence – faintly similar to the classic "Jurassic Park" (1993). Popcorn will fly, remotes will be thrown and laughs will be had. The cast and crew all give spirited performances, and the end product is a direct reflection of this.
Watching a killer doll sing lullabies, unnaturally contort into jarring dance sequences and terrorize those foolish enough to get in her way, it's very easy to find oneself cheering for her crusade. With a stellar 94% rating from Rotten Tomatoes, Megan is the second highest-rated Blumhouse picture ever, only behind the genre-bending sensation that was Jordan Peele's "Get Out". The studio has already approved a sequel, which is currently slated for release in January 2025.
Your donation will support the student journalists of Walter Johnson High School. Your contribution will allow us to purchase equipment and cover our annual website hosting costs.
About the Contributor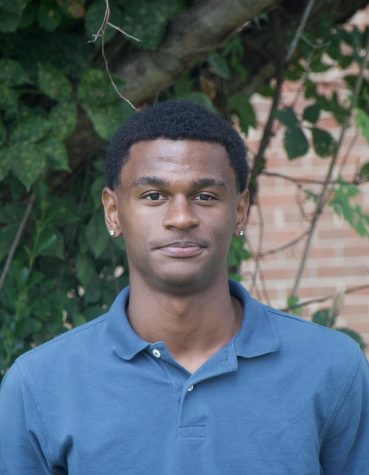 Blake Bailey, Online Opinion Editor





Blake Bailey is a senior and he is the Online Opinion Editor for the Pitch. He enjoys writing short stories and playing basketball for the WJ...