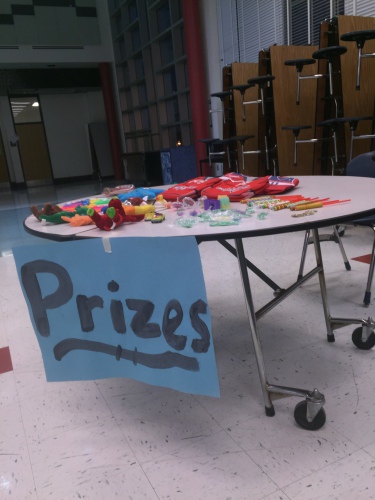 Every year, the Walter Johnson community comes together to raise funds for the Leukemia and Lymphoma Society with entertaining and interactive events throughout the month of February. This year, Kids Night was introduced to the index of traditional fundraiser events. Kids Night was an opportunity for parents to leave their children with responsible WJ students so they could have a fun, stress free night while donating $20 to Pennies 4 Patients.
What made Kids Night different than other events was the focus that was centered on a different part of the WJ community. WJ cluster kids and parents had a chance to raise funds and have a great time. Senior Grace Hazlett was optimistic about this event as it offered such a unique opportunity.
"The most exciting thing is that it is kids night. It is whatever the kids want to do as opposed to baby sitting where [the kids] are being told what to do," Hazlett said.
The event also raised a proficient amount of money for the cause. Hazlett, who was in charge of the event, confirmed that the event did make at least $500 on reservations alone. Hazlett was hopeful that walk-ins would raise a lot more money for the Leukemia & Lymphoma Society.
On the night of the event, the WJ cafeteria was decorated to represent a kid's idea of heaven. Bingo, beading jewelry, arts and crafts, cornhole, sports, limbo and many more activities were all offered as options for the kids to enjoy.
Senior Tony Smith, who helped plan the event,  said his favorite part of the night was taking care of the kids.
"I love seeing the [kids] have so much fun," Smith said.
Some highlights of the night included "playing games, drawing pictures, and watching the movie Inside Out with the kids," he added.
Overall, Kids Night turned out to be a success. Not only did it raise money for an important cause, but it was also an exciting night for parents and children alike and proved that every member of the WJ community can come together for an important cause.