Glo: A school event where everybody wins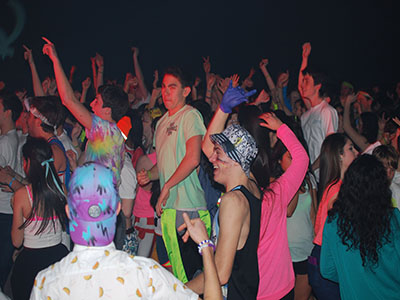 February 21, 2017
Filed under Feature
Hang on for a minute...we're trying to find some more stories you might like.
Every February, Pennies for Patients, a fundraiser to benefit the Leukemia and Lymphoma Society, rolls around, . And with it, the school is thrown back into the annual frenzy of activities like Clash of the Classes, Ninja Tag and Family Feud. Our school gets to enjoy these fun activities while raising money for the Leukemia and Lymphoma Society; a win-win situation for all parties involved. However, one of these activities stands out from the rest as a classic school tradition and an overall great experience: Glo.
Glo is a Pennies for Patients event that has taken on a life of it's own, having persisted up until now largely due to the amount of money WJ makes through the event alone. Featuring dancing, loud music and neon colors, the event is not another ordinary school dance and is almost a rite of passage for WJ students.
"Glo was definitely a night to remember. I went last year as a freshman and it was really crazy and fun. I can't wait to see what this year's dance has in store," sophomore Vice President Sonia Tavik said.
Though Tavik has been before, many other underclassmen are looking forward to seeing what this school dance will be like for the first time.
    Tons of behind the scenes planning goes into making these popular events what they are; Leadership committee, SGA, teachers and volunteers help out with Glo and put in plenty of hours and hard work to make the dance a success.
"Glo is a huge part of Pennies for Patients and it definitely takes a lot of planning. From DJing to setting up the gym, it's really a team effort. But the end results make it all worth it," senior Sarah Sabet said. Sabet and other SGA and class officers work tirelessly together to make the event as popular as it is now.
Each year, the leadership team in charge faces the challenge of topping last year's dance; a feat not so easily accomplished. Each Glo brings with it ideas for new and exciting developments, such as new DJs, improved lights, decorations and  more. To try and top that again year after year is much of the struggle in planning a dance that isn't as well known as homecoming or prom, but is so widely attended.
"Every year, Glo seems to become cooler and cooler, so it's definitely intimidating to try to top last years! But the entire leadership class is working hard to generate new ideas and try to make it even more live than last year," Sabet said.
SGA secretary Jordan Zavareei is looking forward to helping make this year's Glo great.
"This year, we are making sure we have an especially good DJ and are offering cool neon prizes for certain donors. Our advertising through social media and the video we are working on will also definitely make Glo appeal more to everyone at WJ," Zavareei said.
These new approaches by SGA and leadership are sure to reel people in and get the school excited about this once-a-year event.
Pennies for Patients is also a chance for WJ to show off school spirit by raising more money than our rival schools, such as Whitman, Churchill and Wootton. However, rivalry isn't the point of the fundraiser – cancer awareness is.
"As always, raising more money than Whitman would feel pretty nice. That would just be a plus though – the goal is to raise awareness about cancer and support them through fundraisers that rally the community together," Zavareei said.
Among Pennies for Patients events, Glo is one that is not only essential to the fundraising of the season, but is also a fun experience that only comes around once a year. Detailed planning and preparation goes into this event, so make sure to show your school spirit and come out to Glo this Pennies for Patients season!