A sight-reading of the a cappella groups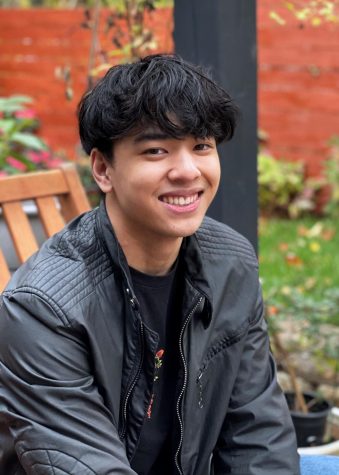 More stories from Benicio Balignot
For students who are musically inclined, WJ has three a cappella groups to offer to students. There is Red Velvet, the school's coed a cappella group, Chocolate, the male a cappella group and Vanilla, the female a cappella group.  Like student-athletes, the students in these groups are able to balance both studying, music and even their own extracurriculars while still having a life outside of school. For example, on top of both her school work and leading the Red Velvet a capella group, senior Sarai Flores also organizes one of WJ's biggest events, the Walter Johnson Benefit Concert.
Sarai Flores, senior
Q: First, what is a cappella? What do the groups do here in WJ?
A: A cappella is performing music without using instruments, and instead substituting them with a singer's voice. What we do here at WJ is that we use the music we create with our voices and hearts to go around and spread joy and positivity throughout the community.
Q: What is the culture like in Red Velvet? How is everyone's relationship with each other?
A: I look at it as a family, and like most families, not everything is perfect. There are definitely some conflicts, but at the end of the day, we all love each other and we are all close to one another. I don't think any of us have any debilitating or negative relationships with each other. We all get along really well and have a connection with one another, and we definitely look forward to meeting every week.
Q: What is it like directing a group this large?
A: Any leadership role is extremely difficult. This is my third year leading the group, so I've been able to develop some leadership skills and have experience in leading a group as large as 20 people. Leading a group this large definitely has some challenges. You have so many strong personalities come together in one room that there's never a moment where someone is completely happy with you. Being in that position, you learn how to handle that. However, it is a lot of fun, and it's always worth it at the end of the day when you have someone come up and thank you for all of the work that you've done. Just knowing that I've managed to create this community where everyone can come together and spread joy and love is enough.
Q: How do your organize performances outside of school, or even ones in school like the Benefit Concert?
A: The process begins when I get an idea of something that I want to vouch for, and I immediately set to work organizing performances, contacting speakers and organizations, and preparing the music that we're going to sing. I then put in hours and hours of work. For the Benefit Concert, I squeeze in at least two hours every day during the week, and at least four hours during the weekend. We're singing at a soup kitchen this year, so for smaller events like that, it's not that hard to organize. I just call and schedule with the people who are running that specific event or program. In terms of how it impacts the groups, I think that for the most part, the events that we do sing at really benefit not just the members, but the community as well. I also think that it brings to light issues or problems that we don't face here as high school students. It also brings some sort of humility to the group when we have those types of experiences.
Mariah Healey, senior
Q: How hard is it to learn the music? How much time does it take to do so?
A:  The music is not that hard to learn, but it can be time-consuming. I'd say it takes two days at most to learn one song.
Q: What are practices like? What are the expectations every rehearsal?
A: You're expected to have your music printed out, and you need to have the music memorized by the required date. Another major thing is that you can't have your phone out. You can do homework or study during rehearsal, but being on your phone is a major distraction and is not allowed.
Q: When do rehearsals take place? How long are they?
A: For Red Velvet specifically, it takes place two days a week during lunch. It lasts the full period and takes place in one of the chorus practice rooms.
Q: If you don't come prepared for rehearsal, or if you are mean or disruptive, what are the consequences?
A: Not having your music memorized consistently means you are most likely not going to perform. However, it isn't as if not being prepared one time means you instantly aren't qualified to perform; it's just that if it's a repeated occurrence there will be consequences.
Will Coffey, freshman
Q: This year, the a cappella groups have started to hold a workshop a week before auditions to help others learn the music. What was the workshop like? How helpful was it in helping you prepare for auditions?
A: In the workshops, we really just got to know the songs and the people we were going to be working with if we made the group. It was far from stressful, as the people helping really made sure to make the workshop as chill and relaxing as possible.
Q: How helpful were the returning members in helping you all learn the audition piece?
A: They were all really helpful. We ran through the music a ton of times, and we were all comfortable singing it. In fact, I think we'd have been able to audition just 5 minutes after starting the workshop with how helpful it was.
Q: During auditions, how daunting was it? What was the process like?
A: It was a bit nerve-wracking at first, but as soon as you walked in, everybody was so supportive and helpful. It was like as soon as you saw their faces, all of the anxiety and fear melted away and all that was left was to just go up there and sing.
Jacob Coffey, Josh Lu, juniors
Q: While most a cappella groups are similar in regards to what they do and what they perform, in what ways is Chocolate different from the other groups?
A: Chocolate usually goes for more funny and entertaining songs. We usually do less complex arrangements compared to say, the ones Red Velvet does. Not to say that the songs are more lax and easier to sing, it's just that we go for songs that are simpler. We usually try to do one or two entertaining or funny songs. Like last year, we sang "These Boots Are Made for Walkin'". Two years ago, Chocolate did a bottle flip challenge during one of the performances. When I wasn't in the group, they did "All I Do is Win". Overall, we tend to do some funny and wacky stuff.
Q: Being the leaders of Chocolate this year, in what ways are rehearsals and performances are different from the other two a cappella groups?
A: I don't think the rehearsal process is all that different compared to the other two a cappella groups. Learning the music is not significantly different, rather, it's the style and performances that set the groups apart.
Semira Hill, sophomore
Q: Being in both Vanilla and Red Velvet, what is Vanilla's work ethic like? How are the people there? What is it like being part of that group?
A: Vanilla is really chill and straightforward. During rehearsal, you go in, learn and rehearse the music, and then leave. While Red Velvet is more like a family, Vanilla is more like a group of close friends. The people there are great and really supportive. Alexis and Sonia, the leaders this year, are really helpful as well. I will say that Vanilla is a bit less stressful than Red Velvet, but I think that's just because of how much larger Red Velvet is and how much we do there.
Your donation will support the student journalists of Walter Johnson High School. Your contribution will allow us to purchase equipment and cover our annual website hosting costs.
About the Contributor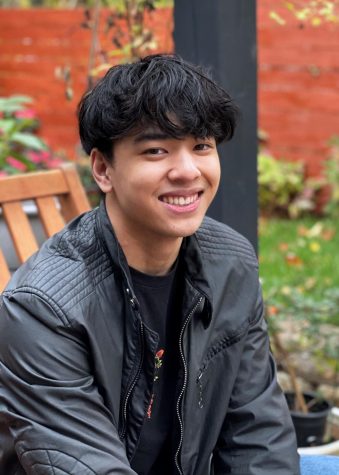 Benicio Balignot, Print Editor-in-Chief
This is senior Benicio Balignot's third year on The Pitch, this time returning as one of three Print Editors-in-Chief. When he's not perusing for new music...