Not quite farm to table: the story behind cafeteria food
From cheese crunchers to pepperoni pizza to suspicious-looking chicken nuggets, students throughout MCPS have often wondered how their lunches wind up on those infamous paper trays, ready to be consumed. Some have speculated that school staff prepares food from scratch in-house. Others have conjectured that everything is mass-produced in factories out-of-state. After some digging, we've finally found the answers to your inquiries; fear not, the strawberry milk debacle will be addressed.
Shaun Sawko, one of the Wellness Supervisors at the Montgomery County Division of Nutrition Services, emphasizes how the sheer complexity of getting food to students every day is astonishing. The county owns a massive centralized facility where the majority of the action takes place. Every day, staff members whip up huge quantities of different food items that are then distributed to individual schools.
"We make homemade ranch dressing using buttermilk and 200-gallon batches of different soups at the facility among other things," Sawko said.
Additionally, each elementary school is given boxes of pre-prepared meals, made at the facility, that cafeteria staff heat and serve to students. That's right, that Thanksgiving turkey and mashed potatoes you ate as a kid was never made at your school.
That being said, middle and high schools do have to cook the food that they serve students. It is never a matter of simply heating.
"Secondary schools are doing all of the cooking on-sight, so there is a lot more freedom there to cater to the student body. They get the raw materials from our big warehouse and actually have to cook on-sight with a standardized recipe. In order for the food to be served, it has to have standardized nutrition information that aligns with federal regulations," Sawko said.
At Walter Johnson, this "freedom" to cater to the student body is directed by cafeteria manager Stephanie Atwood. Every day, Atwood and her staff prepare over 400 lunches for students.
"Before the pandemic, we were probably making around 80 lunches a day. Now we're making over 400 with lunch being free for all students," Atwood said.
Only, the number of people working in the kitchen hasn't changed at all. "There's three of us making everything… it's definitely a lot to handle," Atwood said.
Despite the struggles associated with producing so much food in such little time with so few staff members, Atwood has a mission: to ensure that all students at Walter Johnson are fed.
"The fruits and vegetables are always really fresh and Stephanie puts a lot of thought into how she prepares her meals each day…she really cares about what you guys eat and makes sure that it's not the same thing every day," WJ cafeteria worker Aisha Boynes said.
While Atwood's determination to produce high-quality meals is undying, the repercussions of COVID-19 are making it almost impossible to stick to a solid plan.
"With school districts closed last year, many of the suppliers that we used stopped making the items that we rely on because they weren't in-demand. There has been a huge bottleneck and we run out of almost everything constantly," Sawko said.
This has meant that WJ cafeteria staff and MCPS cafeterias at large are having to get pretty innovative.
"We had to order these tiny paper plates in place of trays because that's all we have left… peanut butter and jelly sandwiches won't be in stock until the new year, so I make pretzel bags for my vegetarians… it's tough," Atwood said.
Moving forward, MCPS is hoping to get more student input on what is being served every day. Additionally, the Division of Nutrition Services is constantly piloting new menu items.
"We have an awesome product coming out next month. It's a dumpling bowl with chicken, veggies, whole-grain dumplings and whole-grain rice… it's great," Sawko said.
But even though there is an effort in the county to make lunch options more innovative, students sometimes feel that the quality is simply not where it should be.
"The length of the lunch line makes it so that the food is often frozen or melted when students finally get it, plus I think that it lacks nutritional value. I'd like to see some changes," sophomore Caitlin Regen said.
The county is constantly pouring their resources into serving students the highest quality food that they can. In fact, they source the vegetables locally and the chicken never has antibiotics. All bread products are actually made by a local bakery in Baltimore called H&S Bakery. However, because of the federally-funded budget that MCPS is restricted by, there are certain limits on what they can provide.
"Federal Nutrition Programs have a reimbursement style which means that if we meet their standards, the entire cost of the meal is paid back. The county has a tight budget that it has to work on as a result," Sawko said."
Moving forward, there are many changes that the county recognizes need to be made to improve the school lunch experience. At the same time, students should know that the county really can't promise anything particularly special at lunchtime anytime soon. Supply is simply too low and while the county is doing what it can, the luxuries of fun additional items like soft pretzels and cookies will not be the norm again until after this block in the supply chain has passed.
"Just this month we ordered an 800 case delivery of pizza. Only 70 arrived and kids all across the county were not able to have pizza like normal. This is a serious problem that has meant a lot of cutting down on our end," Sawko said.
For now, students should rest easy knowing that their beloved strawberry milk was not taken away from them maliciously.
"Local-level standards mandate that no artificial colors be used in the food that we serve. Unfortunately, strawberry milk did have artificial coloring so it had to be taken off the menu," Sawko said.
That's right folks, the strawberry milk fiasco really isn't that deep. Ultimately, everything that the county serves us has to be regulated by local, state and federal standards. If lunch items don't meet these standards, they cannot stick around. The county isn't self-funded and virtually everything we eat is paid for by the federal government. If the county doesn't comply, MCPS wont get funding.
"I'm hoping that once this small hiccup in our plans passes, we can really make school lunches in MCPS something to get excited about. But with our tight budget and the never-ending shortages, we ask that everyone is patient and waits just a few more months until things can finally get back to normal," Sawko said.
Your donation will support the student journalists of Walter Johnson High School. Your contribution will allow us to purchase equipment and cover our annual website hosting costs.
About the Contributor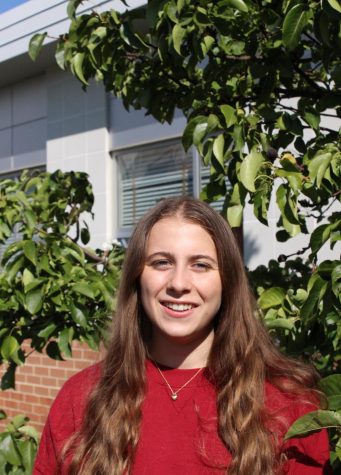 Ruby Topalian, Senior Opinion Editor
Ruby Topalian is a senior excited to start up her first year on the Pitch as a Senior Opinion Editor. Ruby co-founded her own mental health advocacy club,...