Clubs provide relief and relaxation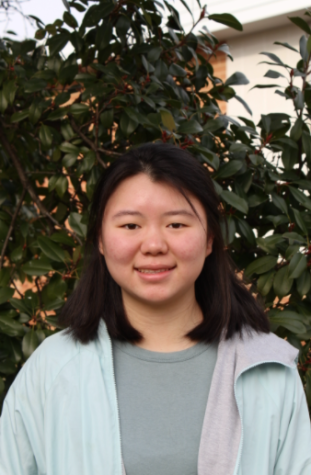 More stories from Allison Xu
High school students experience tremendous stress with schoolwork, college applications, and volunteer activities. In the recent two years, the pandemic has added another layer of stressors, leading to a feeling of worry, frustration and isolation. Fortunately, there are multiple school clubs that serve as a needed break for students in school, providing comfort and relaxation.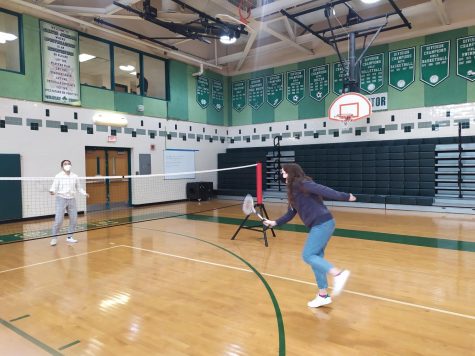 Badminton Club
Every Tuesday in the gym, the birdie flies across the net with cheers as members of the Badminton club gather to play badminton with friends.
"I like to not think about school at that moment," junior Marina Bottomley said. "We get to play a sport that's not very competitive but very fun. It helps me reset for the second part of the day."
Bake with Kindness
The aroma of freshly-baked pumpkin cupcakes fills the kitchen of sophomore Miriam Bernstein as she prepares them for an upcoming bake sale. Bernstein participates in these events as a member of the Bake with Kindness club, which provides members with baking opportunities for various charities and shelters every week.
"I really like to bake, but sometimes I don't have much time to bake. The club is a reason for me to bake, which is a break from my schoolwork. And it's for a good cause," Bernstein said.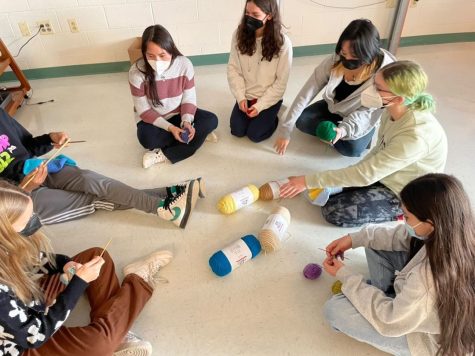 Cottagecore/Tea Club
As the saying goes, "Sometimes all you need is a good cup of tea."
The Cottagecore/Tea club can not agree more with this statement. That's why every week, during Friday at lunch, the club meets for a good cup of tea. The club members boil a kettle pot and make tea, such as mint tea, Chai Rooibos tea with honey and other assortments.
"Being able to slow down on a Friday sets the right mood for the weekend and it can make me more productive," senior Sofia Montes Garzon said. "Usually when it's warm outside, we go into the courtyard. It's very nice."
Crochet/Knitting Club
Whether you want to make a sweater for your dog or a sock for a younger brother, the crochet/knitting club is here to provide you with what you need. The club members use a variety of yarns and hooks to crochet pieces of work while sitting together, chatting, and laughing. Currently, one of their focuses is on making crocheted squares to donate to the charity Warm Up America.
"Crocheting gives me something relaxing and productive to do, a way to use my hands and an outlet for creativity," club president, sophomore Emma Burlina said. "It's really rewarding because after all this time you spend creating something, you know it's going to help someone in need."
Madcow Movie Club
If you are a movie fan, and you are eager to exchange ideas and thoughts about popular movies, then don't miss the meeting of the Madcow Movie Club. Once every two weeks, club members meet to discuss a selected movie, including their thoughts on the plot, problems, characters, and more.
"I like seeing everybody's point of view on the movie. It also helps me build in time to relax and watch movies," club vice president, junior Mattison Harvey said.
Photography Club
Snap! Once a week after school, the Photography Club members use film cameras to capture memorable moments. For many members like junior Gabriel LaCount, the club is a great way to explore their passions and meet new people in a relaxing environment.
"Even though it may seem like the club is another place after school just taking time away from the academics, I feel like it actually is the other way around because when you're happy and doing things that you want to do, then you can relax and perform better in school," LaCount said.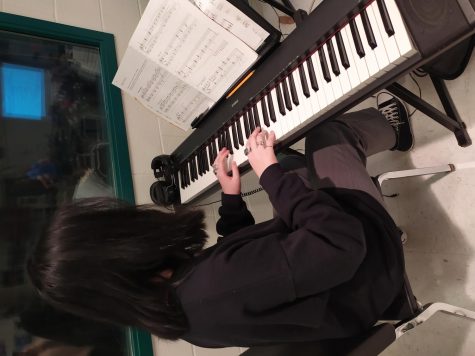 Piano Club
Every Wednesday at lunch, melodious music floats out of the piano room where the piano club members meet to play piano, hang out with friends and relieve stress. The club also holds fun, interactive events such as Piano's Club Got Talent shows.
"The club is social as well as playing the piano. Everyone is very friendly," freshman Cassia Klein said. "Because of this club, I switched classes and I joined the piano class because I had an elective slot second semester. And so now I'm really enjoying it–it's one of my favorite classes."
For many students, these clubs have been refreshing breaks from school, places to explore passions in a warm and peaceful environment, opportunities to connect with both friends and new people and much more, bringing much-needed ease and relaxation to help them relieve stress and anxiety.
About the Contributor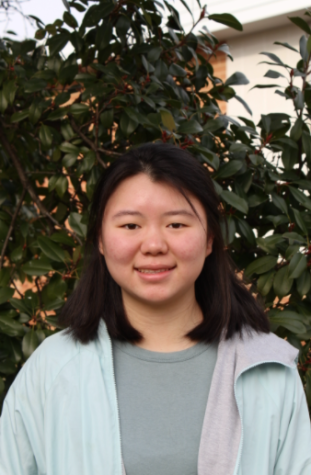 Allison Xu, Staff Writer
Allison Xu, a sophomore, is excited to join the Pitch as a Staff Writer this year. In her free time, she enjoys writing short stories, baking, and playing...