WJ Alum on Shark Tank
At the ripe age of 5 years old, WJ alum Kalaii Griffin II began selling painted rocks. This junior entrepreneurial experience led to Griffin selling boba tea by the old White Flint Mall. He would make his own, mastering the craft at his house before it was a widespread drink. After that success, he made his own t-shirt company, though that didn't turn out as well as the other businesses. He then started his own recording studio inside his house. Griffin always had aspirations of starting his own company, hence the constant cycle of beginning various hustles.
Griffin, a class of 2013 Walter Johnson graduate, took all of the lessons that his teachers taught him and ran with them. The teachers who influenced him the most were Sarah Bieber, Robert Yi, Butch Worden and Jimmy Etheridge.
Griffin described Yi as "always keeping it real". Yi knew what Griffin's potential was and also wanted him to be realistic without killing his dreams. He taught him to be very persistent on what he wants. Yi pushed him in ways that he didn't know he could. Bieber helped keep Griffin in line which led him to become the best student that he could be. Etheridge helped to make sure Griffin focused on his academics and continued honing the people skills that helped make him a successful entrepreneur. He stood out because he took all of the advice he was given.
"If he didn't understand parts of it, he made sure to get an explanation as to why that is what he should do, which was important as a coach," Etheridge said.
Griffin stated that coach Worden helped to bring the best out of him, telling him that he would be a great football player by his work ethic.
Over his time as a Wildcat, Griffin was enrolled in the resource class. This class allowed him to be able to take a step back and get everything he needed to get done with a little bit of help.
"It helped me prepare for the real world. Yes, there are some things that you need to do by yourself, but at the end of the day, you're going to have a team that helps you to complete these tasks," Griffin said.
Griffin emphasized the importance of a sufficient team, highlighting that you don't always have to do everything, unlike what they tell you in high school and college.
While Griffin was doing workouts for various NFL teams, he frequently exercised in a trash bag in order to burn water weight by sweating more. He hated the idea of using a trash bag, so he would purchase $25 reusable sauna suits. They ripped after only a couple uses. Being an adult just out of college, this got very costly. He began searching for single use sauna suits and came up empty handed.
Griffin decided that the best course of action would be to start his own business, Shredskinz. Shredskinz's goal was to create the first eco-friendly, single use sauna suits. He put in hours and hours of work in order to get the company ready for their first release, and ended up selling out the first week they were available.
After the initial successes of the business, Griffin brought it onto Shark Tank. He went into the show hoping for $60,000 for 20% of his business. He presented his pitch and was given the opportunity to take either Mark Cuban or Daniel Lubetzky's offer for the initial asking. He ended up partnering with Cuban and has been consistently selling out ever since. Although selling out may be amazing, Griffin noted it as one of the biggest struggles that the company faces.
Your donation will support the student journalists of Walter Johnson High School. Your contribution will allow us to purchase equipment and cover our annual website hosting costs.
About the Contributor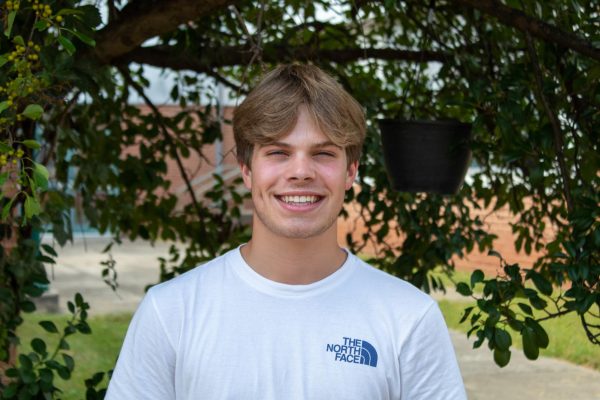 Nick Opipari, Online Managing Editor
Nick is an Online Managing Editor or the pitch this year. In his free time he enjoys hanging out with his friends and taking pictures of different events.