Puppy Bowl expected to go PAWsomely this year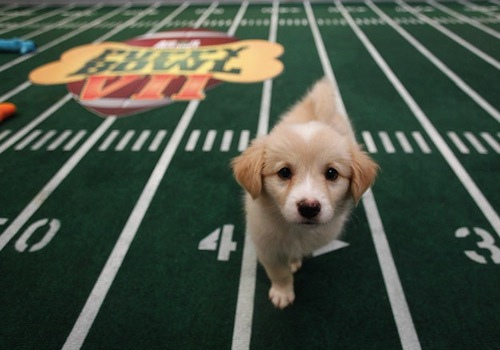 Each year, on the first Sunday of February, millions of fans tune in to watch a highly anticipated event. No, it is not the Super Bowl, it's the Puppy Bowl. Going on its ninth year, the popularity of the Puppy Bowl has increased immensely. In its first year on air in 2005, the Puppy Bowl hardly received an audience of 300,000, yet the Puppy Bowl's viewership reached 2.5 million viewers only 10 years later. For the past two year, the bowl has featured two teams, with the dogs selected to two random teams, Team Ruff and Team Fluff.
Let's take a look at some of the players from Team Fluff and Team Ruff to look out for this year.
Striker: This 18 week old Miniature Pinscher Shih Tzu mix is from the DC area, hailing from the Operation Paws for Homes in Virginia. Striker will be competing for Team Ruff in this year's bowl.
Smooshie: The 12 week black Shar Pei puppy, all the way from Florida, is one player to look out for on the field. For all fantasy football lovers, she makes a great player for a starting flex position. Smooshie will be playing for Team Ruff this year
Lucky: Although she only has three legs, don't count out Lucky as the dark horse MVP for this year's Puppy Bowl. This 17 week old poodle mix can run just as fast, maybe even faster than the majority of the competition. Lucky will suit up for Team Fluff in this year's games.
Bizmark: The 13 week old Chihuahua Mix out of Last Hope K9, Massachusetts has received a very positive scouting report especially with sniffing out play action fakes. Bizmark looks to be a nice addition to team Ruff.
Alexander Hamilpup: This patriotic, 19 week old Pomsky hailing from Florida was a great find by Team Fluff. Noted for his affectionate side, Hamilpup should not be looked over for one of the breakout players of the game.
Buttons: The Pomeranian Schnauzer mix is one of the younger talents to look out for in this year's bowl. The 12 week old out of Florida is a fierce competitor for Team Fluff, although she is only attending the game so she doesn't get fined, she is most scouts sleeper MVP.
In this year's Puppy Bowl, Team Ruff is looking to beat an opponent they have outscored 159-89 in the two prior Puppy Bowls. Team Fluff will try to claim its first ever Puppy Bowl victory in this highly anticipated matchup. With both teams packed with raw talent, and a surprise halftime show, tuning into Animal Planet at 3 p.m. on Sunday, February 5 is a must.