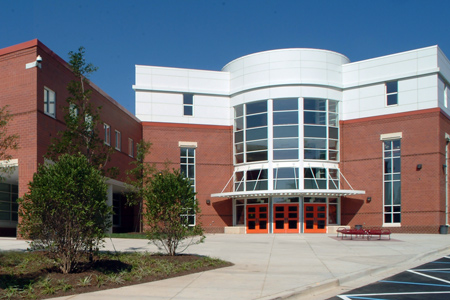 On March 16, a 14 year old female student at Rockville High School was allegedly forced into a boy's bathroom by two male students and violently raped. The incident immediately gained national attention, prompting questioning of the security measures put in place by not only Montgomery County schools, but schools around the nation.
    The victim was walking down the hallway at around 9 a.m. when she ran into her soon to be attackers- Henry Sanchez, 18 and Jose Montano, 17. She knew one of them, Montano, as a friend, and did not know the other one. The three of them chatted as they passed the boys bathroom near the gymnasium of the school. At that point, according to court documents, "Montano asked Victim A for sex, which she refused."
The two boys then forced her into the bathroom, and what followed was a violent and brutal rape. According to court documents, the victim at one point cried out in pain and was told to "calm down." There was blood, possibly mixed with male fluid, recovered from the bathroom by forensic investigators.
    After the attack, the victim told school staff that she was sexually assaulted by two boys. Both students are being charged as adults with first-degree rape and two counts each of committing a first-degree sexual offense, Montgomery County Police said.
Emily Johnson is a senior at Rockville. She was shocked when she heard about the attack at her school.
"I have never felt unsafe at my school and I couldn't imagine something like that happening to anyone at Rockville and when it really sunk in I was horrified by what happened, but I'm hopeful it will set a precedent for better security in all schools to ensure it can never happen again, as well as educating students about consent," Johnson said.  
Since the incident, Rockville has put more strict security measures in place in an attempt to make sure the incident, or any of its kind, never happens again.
"They put added security measures in place by requiring signing out whenever someone has to use the bathroom and if anyone is gone longer than five minutes they will send a search party, and are now stricter about being late to class," Johnson said. "I think the security measures, while very inconvenient, are necessary although added a little late because I doubt it will happen again now. The security should always have been stricter."
    This case has gained much attention from the entire country because of it's unique circumstances. Sanchez and Montano were both enrolled as freshman at Rockville – even though they are well above the age of typical freshman (14-15.) They were also illegal immigrants, another point of concern for some. Immigration has become a huge national debate in recent months, in part because of the travel executive orders President Trump has imposed on specific Middle Eastern countries and populations.
This case also raises the concern of security in schools. How can we make sure this never happens again? Well, according to WJ security officer Howard Beaubien, a cohesive school is step one.
"There are steps that would help prevent it. My understanding is that this is a unique situation, so just everybody has to be alert- not just security but students, staff and everybody else- if you see something, say something," Beaubien said.
WJ senior Sierra Hunter agrees.
"Everyone needs to work together to keep each other safe. I have never felt unsafe in school, and I would never want anyone to. What happened at Rockville is really sad and I would hope that it would never happen here," Hunter said.