Virtual school provides unique challenges for young learners
A year and a half feels a lot longer when you're seven than when you're 17. For elementary school students in MCPS, this time away from the classroom has had a dramatic impact.
Second grader Josh Werfel is a student at Kensington Parkwood Elementary School. Seven months into his first grade year, he, like every other student in MCPS, started attending school from home.
It wasn't the best but after a full year at home, he found the benefits.
"The nice part is if you get bored you can play with a toy," Josh said.
Josh's attitude is the same as many families. According to the National Library of Medicine, 76% of families found their online school curriculum to be suitable under the circumstances. But that doesn't mean it isn't harming kids.
Experts are extremely concerned about missing content, excessive screen time, lack of physical activity and socialization and inequities in access to quality online education.
Many school districts, including MCPS, were eager to get young students back in the classroom to continue in-person learning. On March 15, kids in grades K – 3 went back to school.
Josh was glad to be back but it was less about the long-term impact of online learning on a generation of young thinkers and more about the little things.
"I like in-person better because for the math tests you get to do them on paper and you give it back to your teacher," he said.
In online school, tests were all virtual and there were often issues with making the computer understand what you inputted.
His little brother, Sam Werfel, started virtual kindergarten in the fall. His first time in public school on March 15 was exciting. The best part?
"I like that I get to go to the cafeteria and be as loud as I want," Sam said.
Loud lunch breaks are likely not encouraged during at-home school.
For Ikey Arwas, a third grader at Bayard Rustin Elementary School, the ability to socialize with friends is the best part of being back at school.
"I prefer in-person school because you can actually see your friends and interact with them. I can actually speak privately to friends without the whole class hearing you," Ikey said.
Many students have expressed that in-person interactions with teachers has been one of the highlights of going back. For Ikey, questions were often going unanswered on Zoom because his teacher couldn't see his hand up.
"If I raise my hand to answer a question, it often doesn't get answered until we have already moved on to the next segment," he said.
A year of virtual school has brought on a new set of challenges but elementary school students and parents are thrilled to be back in the classroom.
About the Contributor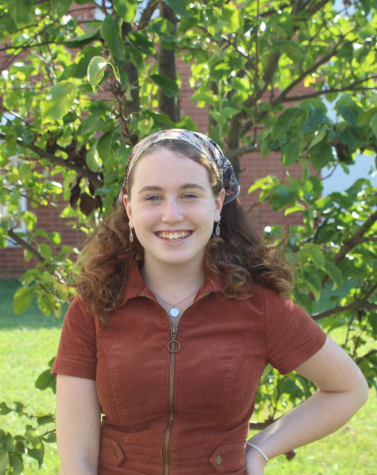 Maeve Sanford-Kelly, Print Managing Editor
In her second year on The Pitch, Maeve Sanford-Kelly is excited to be serving as a Print Managing Editor. Outside of The Pitch, she's the Chair of Maryland...