BCC vandalizes WJ team bus
The long-running rivalry between Walter Johnson and Bethesda Chevy-Chase erupted into acts of vandalism and harassment following the varsity football game at B-CC on Friday, Nov. 5. WJ and B-CC's football teams squared off in a regional playoff game, with WJ defeating B-CC 28-20.
Minutes after the game, a group of B-CC students vandalized Walter Johnson's team bus while it was stopped in traffic on its way back to the WJ campus. Eyewitnesses say that B-CC students pounded bus windows, cracked the glass, attempted to hit WJ football players through open windows and spat on the bus. At least three windows were destroyed.
Players on WJ's football team expressed disgust that B-CC students reacted in violence to the win.
"I was just in shock. We were just trying to celebrate our win and then this happened. I did not expect to have our bus attacked and vandalized. Obviously, it made me mad, but I was more just shocked that the students would go as far as attacking the bus in response to the loss," senior left guard Miguel Toloza said.
"When I first saw the crowd, they were walking in the middle of the street directly towards us. I thought nothing of it at first as they were at a crosswalk. But they kept coming closer and I started to see what was going to happen…they got close and started shouting, spitting and hitting the bus. The only thing going through my mind was, 'Really?'" senior co-captain Lucas Boiteux said.
Principal Jennifer Baker, along with B-CC's principal, released a strongly worded joint statement condemning the vandalism.
"The alleged behaviors are alarming and unacceptable and not aligned with either schools guidelines for responsible behavior…we can be athletic rivals safely and responsibly," Baker said.
After last Friday's game, it was also reported that groups of WJ and B-CC students were fighting in downtown Bethesda following the game, similar to the fights in 2020. In addition to these confrontations, there were a few incidents between student sections following the end of the game.
The Montgomery County Police Department is currently investigating the fighting in downtown Bethesda and the vandalism.
This rivalry led to past incidents that have often involved police intervention. Three students from B-CC were arrested in January 2020 following altercations that occurred after a basketball game between WJ and B-CC.
About the Contributor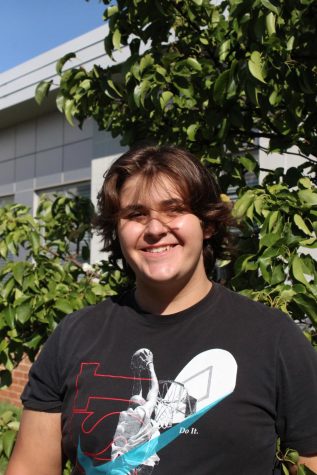 Walker Prince, Staff Writer
Walker Prince is a junior at WJ and in his first year writing for The Pitch as a Staff Writer. Walker loves football and writing and he is excited to start...