Inconsistent contact tracing raises concern
With the outbreak of the Omicron Covid variant, nearly everyone at Walter Johnson has been, or will be in close contact with someone who tested positive for Covid. This raises attention to how many people have been contacted by an official and what qualifies as close contact.
Students feel that there has been a lack of clear communication between the school and students regarding contact tracing. According to the WJ website, a person is considered being in close contact if they are within three feet of a Covid positive person for a cumulative total of 15 minutes over a 24 hour period. Yet, students are not made aware of the proximity of said person when they are contacted.
"Someone in my class tested positive and I was called down to the office and told if I develop symptoms to get a test. It's an okay system. It is just difficult to process since I don't know how close I sat next to them or if I had any other interactions with said person," junior Georgia Myers said.
With the upsurge in cases due to the Omicron variant, a substantial number of students have been contacted due to possible Covid exposure.
"I was called down during sixth period and had to sit in the office for about 10 minutes, then an admin, who oddly wasn't wearing a mask, told me someone in my third period tested positive and asked if I had any symptoms. I responded saying I had cold-like systems, then they told me to go back to class," junior Maggie Berrett said.
Students are not the only ones at a high risk for getting Covid. Faculty are also around a large number of people, whether in crowded classes or hallways. Teachers, having interactions with many students, are consequently alerted more often about Covid positive students.
"I am notified but am not asked to get tested, but on occasion I've had students who have Covid and are out of school that the office has not notified me about," social studies teacher Christopher Merrill said.
The majority of student interaction that could result in infection is not in the classroom. Rather in the crowded hallways, with students pressed to each other, or lunch where they are unmasked in close proximity with one another. There is a higher likelihood that an individual can get or transmit Covid to people they walk in the hallways with or to their friends that they see outside of school than by sitting next to someone positive in class.
This type of infection is harder to track by the school, as a result teachers don't only provide a seating chart to aid contact tracing. In order to help gauge who a student could have infected, they are also asked to provide information on who that person seems to be friends with. While not perfect, this improves the effectiveness of contact tracing.
Students, as well as teachers, have noticed discontinuities in the contact tracing system, and while they understand it isn't going to be perfect, the system needs to be held at a high standard to ensure the safety of students and faculty.
"I think the school is doing okay, all things considered, I wouldn't say it's an amazing job but I know they are making a good effort," junior Colin McCormack said.
Your donation will support the student journalists of Walter Johnson High School. Your contribution will allow us to purchase equipment and cover our annual website hosting costs.
About the Contributor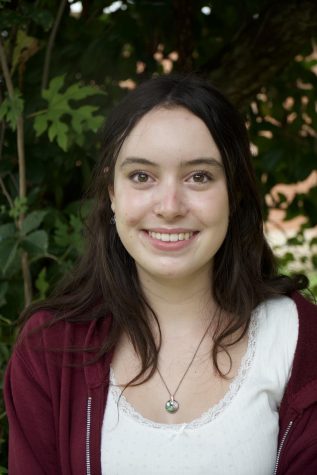 Olivia Scharf, Staff Writer
Senior Olivia Scharf is a staff writer on the Pitch. This is her second year on Pitch, and outside of school she likes to read and hang out with friends.