Admin plans to discuss school policy in upcoming summer meeting
As a whirlwind of a school year comes to a close, students look forward to the summer, while administration plans to meet during the summer to discuss policies for the '23-'24 school year.
This year, many changes were implemented, such as the ID system, the Wildcat Wellness schedule, hour-long lunches, the closing of bathrooms and the Pay-and-Go system. Administration plans to revisit these policies as well as discuss new initiatives, such as a new grading system, during the Instructional Leadership Team's (ILT) meetings this summer.
"We will talk about wellness for students, homework and lunches and how to make them more fun [during the summer]. One of the big things that we are going to discuss is a book called Grading for Equity. We are also going to hear from Steve Orders, who was the Principal of the Secondary Virtual Academy this year, which changed to a rubric based grading system using the book, to find out the pros and cons [of a rubric based grading system]," Principal Jennifer Baker said.
Student voice is one of the most important factors in administration's decision making process. Throughout the school year, administration has provided surveys for students, staff and even parents to take to input their opinions, suggestions and ideas for changes that have been made and changes they want to see next year.
"We've been taking all of the data that we got from students, categorizing it, looking at it and then we pull out patterns, like this year, there are a lot of people asking about homework and any way to reduce the homework load. Then we will actually have a discussion, which will include students, parents, staff, and the leadership team. Once we get their input, we make changes based on what we hear," Baker said.
Last summer, to further involve students directly in the decision making process, the ILT invited students and parents to attend the summer meetings in order to voice their concerns and opinions. During the meeting, students were able to choose a committee based on a topic of their interest, such as security and discipline, wellness, equity, grading and more, discuss issues in that area, come up with solutions, present them and then vote.
"[The students] were the ones who were largely a part of saying homeroom is not working, lunch is too short, and hour long lunch would incorporate a lot of wellness [for the students]. So, by looking at student and staff data and hearing the students, those changes [hour long lunches] were directly made because of student voice," staff development teacher Melanie Schwed said.
Junior Mallory Striplin attended last summer's meeting, and plans to go again this summer to voice her opinion about various possible changes for next year. Last year, Striplin advocated for wellness. Specifically, she pushed for increased mental health support and more equity for students within the curriculum, which she saw this year through the wellness center, therapy dogs and more student-led clubs that promoted diversity. Striplin plans to attend the ILT summer meeting this summer as well, which will be held on Tuesday, July 11.
"This summer, my main focus will be more initiatives to support organizations that promote diversity. For example, the South Asian Student Union wants to hold an assembly next year, and it would be great if administration provided us with additional help to make it feel more concrete. I will also be advocating for increased academic support, like student led tutoring services, which would be a good way to promote community service and build a good student rapport," Striplin said. "I will also be talking a lot about open lunch, and if they [staff] do end up wanting to promote a stricter lunch policy, then I will definitely be pushing to make the school a more welcoming environment for lunch."
Other than students, staff also have many ideas for policy in the upcoming year.
"My goal is to continue working to make WJ more equitable. We see a marked achievement gap in our data for achievement and for experience by race. Until that's completely gone, that's going to be my main focus and what I'm dedicated to. With a lot of the work we've done with study circles and with all of our professional development this year, all of us have been focused on equitable teaching," Schwed said.
Your donation will support the student journalists of Walter Johnson High School. Your contribution will allow us to purchase equipment and cover our annual website hosting costs.
About the Contributor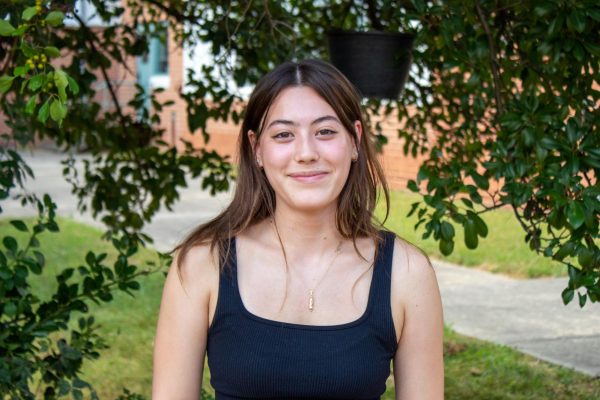 Sara Elster, Print News Editor
Senior Sara Elster is looking forward to her first year on the Pitch as a Print News Editor. When not writing for the Pitch, Sara enjoys baking, practicing...