Exploring boundless possibilities: a recap of the WJ STEM4all STEM Fair
On June 8, the WJ STEM4all club concluded their year with a remarkable STEM fair that left students buzzing with excitement. The event transformed the student commons into a captivating center of exploration and innovation, celebrating the vast possibilities within the STEM field. With an unique and engaging guest speaker as well as a diverse range of stimulating activities, the fair proved to be a resounding success, inspiring attendees and fostering a love for STEM.
Going into it, the officers were excited to introduce their members to a new field within STEM: biopharmaceuticals. The club reached out to AstraZeneca, inquiring about guest speakers. They were connected to Lauren Flight, who has an incredibly unique background: getting a Bachelor's degree in Fisheries and Wildlife Science, working as a fisheries ecology lab technician and later as a Marine Science Educator for the state of Alabama.
Unfortunately, when COVID-19 hit, Flight was one of the first to suffer the effects of budget cuts when she lost her job. In a surprising turn of events, she received an opportunity from Catalent Pharma Solutions, transitioning into the pharmaceutical field and moving her life to Maryland. Today, she is a senior training specialist for AstraZeneca and aims to promote STEM amongst youth, as well as educate and inspire people and communities.
"Her story is really crazy. I think it's very encouraging for people who are interested in STEM, but not really sure what they want to do. That there are so many possibilities in the field, all you need is to have curiosity and passion," STEM4all president Jasmin Wu said.
The event started with an eye-opening presentation from Flight, who shared her personal journey, discussed various STEM opportunities and presented groundbreaking research in biology. Following this presentation, Flight engaged the students in a creative drawing activity, encouraging them to showcase their unique skills. Students had to follow the same set of instructions, but ended up coming up with a multitude of variations of the same image of a fish, demonstrating the uniqueness of every mind and fostering connections between the students who enjoyed the humorous results.
"I really liked how the activity built upon the imagination of people, and displayed how others think differently from you and bring a different perspective," Sophomore Barrett Zheng said.
Afterwards, students split into groups to explore the exciting activities that had been planned. While the abundance of pizza and snacks – fueling the crowd and keeping them hooked – was a highlight, the variety of entertainment and attractions led to a fun-filled evening. Over the last year, STEM4all has reached new heights, with their inclusivity and outreach evident in their collaborations with the National Center of Children and Families (NCCF) and their volunteer initiative, "STEM-Fridays," which provides educational access to underprivileged youth. The club also became a non-profit, and expanded their bi-weekly experiments.
The culmination of all their more popular activities and experiences, from slime-making, coding, marshmallow towers, volcano eruption and everything in between allowed members to reminisce on the past year and get energized for all that the upcoming year has to offer.
WJ STEM4all started off as a mission to make the field seem more approachable and enjoyable regardless of a student's background. Over the years, it has grown to be a massive success, attracting interest from people from many spheres, grades and interests. The STEM Fair was a perfect opportunity to represent the sentiments of growth, creativity and discovery that the club stands for.
As Flight reminds us, the world needs everyone's unique skills and perspectives to address the challenges that lie ahead. She hopes students remember to stay curious and brave as they navigate their future.
"The diversity of minds, backgrounds, families, and cultures are what make the cutting-edge fields that involve STEM so exciting. So embrace your strengths and weaknesses! The world needs everyone to solve today and tomorrow's problems," Flight said.
Your donation will support the student journalists of Walter Johnson High School. Your contribution will allow us to purchase equipment and cover our annual website hosting costs.
About the Contributor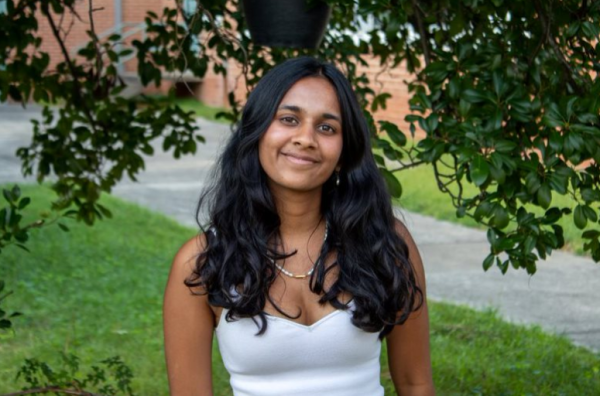 Geetanjali Raju, Online News Editor
Senior Geetanjali Raju is excited to participate in her first year with the pitch as a Online News Editor. In her free time, Geetanjali being active, and...