Status Quo and what comes next
If you asked me to define the status quo of the 2010s in one word, I would consider "change" to be the only possible answer. Although "change" inherently goes against the definition of "status quo," I think it perfectly encompasses what we have desired for so long and moved mountains to achieve. In these past ten years, a lot has indeed changed. The demand for minority, female and LGBTQ+ equality, rights and representation has dominated the societal landscape. The advent of social media has seen the adversities and struggles of people across the world more accessible to those with the privilege to choose. In these past ten years, marginalized communities have amplified and made their voices louder than ever before.
But then COVID-19 happened, and the landscape has since shifted. I hope to not sensationalize something that so many of us have been trying to move past, but I find it pertinent to mention when discussing what exactly comes next. After all, it's a new decade, and with the pandemic still a constant for the foreseeable future, there comes a new "post-COVID" normal. And this poses a question: is there a new status quo?
It's often said that adversity can be the catalyst for change. Yet when one considers the state of affairs in our little suburban bubble of Bethesda, adversity and struggles aren't often what first comes to mind. For many of us, the greatest inconveniences have been having to attend school virtually, wearing a mask indoors and being unable to see friends. Yet, across social media and news coverage, we've witnessed the hardships people across the world have had to endure. All the while, we've had to deal with the knowledge that our country had the potential to minimize suffering and casualties, and actively chose not to. However, instead of sitting here wallowing in regret, or preaching platitudes about what we've learned from the pandemic, I think what truly matters is what we've realized during it, and what that spells for us moving forward.
In the 14 months since quarantine began, many of us, confined to the comforts of our homes, have relearned the importance of family. With people across the world being unable to visit distant loved ones and friends following the closure of borders, the notion of connectivity has ironically become more important than ever in an era defined by how easy it is to connect with one another.
With the crashing of the economy and loss of jobs, several members of our communities were unfortunately displaced or left without a source of income. Rather than just sending "thoughts and prayers", we mobilized to assist them, utilizing our various platforms to advocate for those in need rather than just "posting for visibility". In a time where we've physically been apart, we've instead grown closer together as a community.
Of course, I cannot speak about what not just WJ students, but also teens across the world, have learned and done during quarantine without mentioning the eruption in student activism. Be it us having more time on our hands, or being more cognizant of the ever-developing world around us, many have found their stride educating themselves on current events and supporting important causes.
So what does this mean for the future? What I've outlined so far doesn't seem to be much of a departure at all; instead, it's almost more of the same. And maybe that's because we might not need a new status quo — if the previous status quo was about "change", maybe we just need more of that. We can speculate all we like about how COVID will change things moving forward, but that doesn't mean it has to dictate what we do with ourselves moving forward. In being restricted from actively participating in the world around us, we've found within ourselves the potential to stand for something and attempt to create real change.
Imagine what we can do moving forward.
Your donation will support the student journalists of Walter Johnson High School. Your contribution will allow us to purchase equipment and cover our annual website hosting costs.
About the Writer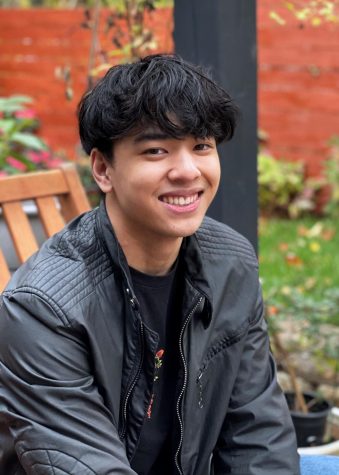 Benicio Balignot, Print Editor-in-Chief
This is senior Benicio Balignot's third year on The Pitch, this time returning as one of three Print Editors-in-Chief. When he's not perusing for new music...