Pay to play: The problem with soccer in the US
Soccer in our country has never reached its full potential, and may never be able to. A country that pays great attention to athletics and excels in major sporting events, has failed to deliver on numerous occasions in the world's biggest sport.
Let's get straight to the point: soccer in the US has always been about money. If you're not willing to contribute thousands of dollars every year, the chances of succeeding are very low. Youth teams around the nation have solely focused on one thing— profit.
Local youth teams such as Bethesda Soccer Club or Potomac Soccer Association follow the same profit system. According to the Bethesda SC website, the average fee per player per year is $2500 at their club. Bear in mind, that this doesn't include other costs such as equipment, flight tickets, hotel costs, etc.
Consider this, a kid just entering elementary school is charged around $2500 a year, for practice sessions and games which that child may not even be enjoying. These teams even charge large amounts of fees for teams playing at less competitive levels. Players of young age groups such as under 7s or under 9s are also charged a similar amount on more competitive teams but aren't provided with the same level of perks or features such as high quality coaching, scouts, etc.
Scouts in soccer only attend the highest-level tournaments, which means that parents here have to pay more for their kids to be noticed. Thus leaving out kids with genuine talent who can't afford to play. Although more affordable options such as high school soccer or recreational leagues do exist, they don't offer the same level of quality in terms of training, fields, coaching, etc.
Compare the soccer set up in the U.S. to Denmark, both countries are very similar in terms of per capita GDP. But when it comes to the youth soccer setup, Denmark is much better, they have an intent to actually develop good players. The pro clubs in Denmark offer scholarships and education to players with great talents and develop them until graduation from secondary school. This has proven to be a great system, as Denmark made it to the semi-finals of men's UEFA Euro 2020 competition last year, not bad for a nation that has a smaller population than Maryland.
Not only is the path to becoming a professional hard, but fans who love watching the game are also hurt by the profit-centric system. The ticket prices are about $58 on average for a Major League Soccer game, about $16 more than the average English premier league ticket price. Paying $58 to watch a game where the skill level isn't the greatest, there's better usage for the money.
These high prices result in low attendance records, with the MLS team Houston Dynamo averaging 11,372 fans per game in a stadium whose capacity is 22,079. Even LA Galaxy, the most successful team in the MLS, averages 23,205 tickets per game when the stadium capacity is 27,000. League directors, professional clubs and the USSF need to understand that any successful soccer nation tries to make soccer as accessible as possible to the common man.
Although the pay-to-play system in soccer in the US is very much prevalent. The nation has several star players, the most notable being Christian Pulisic, Rose Lavelle, Zack Steffen and Tobin Heath. They've all come from youth clubs in the US and represent major clubs overseas, and have several accolades to their names, with both Heath and Lavelle winning the 2019 women's world cup. With the men's national team having qualified for the 2022 World Cup in Qatar, the nation is looking forward to seeing the most exciting sets of talent in the last few years.
A lot still needs to be done, as long as the pay-to-play system exists in the US, it's unlikely that great success will be possible. It's noticeable that being part of a competitive level of youth soccer is only exclusive to very few. The US Soccer Federation needs to realize that talent in soccer isn't based on wealth, but by a passion for the game. There needs to be more funding for youth teams by the federation to give opportunities to those who aren't as fortunate. The best way for the game to grow is to make it more accessible and create more opportunities, although these seem like very simple plans, they can guarantee success. In the land of opportunity, soccer seems to be anything but.
Your donation will support the student journalists of Walter Johnson High School. Your contribution will allow us to purchase equipment and cover our annual website hosting costs.
About the Contributor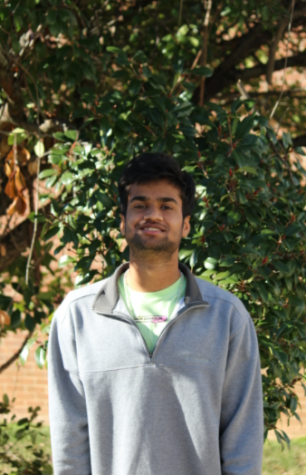 Rucheek Kuppachi, Staff Writer
Rucheek Kuppachi is a senior at WJ and a staff writer at The Pitch. In his free time, Rucheek enjoys watching or playing soccer.