Government and history: it's more than the AP exam
When we take AP Government and AP United States History (APUSH), we tend to dread the reading guides, the concept cards and the DBQs and LEQs. We focus on passing the AP exam. But after interviewing the AP Government and APUSH faculty, I learned that there is so much more to these classes. In their view, it's not just about passing the AP exams. WJ's government and history teachers are devoted to ensuring that their students gain the needed knowledge and skills to be active citizens, making a difference in our democratic government.
Timothy Rodman, one of the AP Government teachers, expressed the civic goals that he strives for when teaching. "Helping students to better analyze the inner workings of today's U.S. Government, from the national, state and local levels of government so that they can have the knowledge to take action on issues they care about," Rodman said.
AP Government teacher Elizabeth Muehl described the importance of developing this solid understanding of our government structure. "First is to have [students] understand the actual system. And more importantly, can they actually apply it to the world?" Muehl said.
AP Government provides various fun activities that help students to apply concepts they're learning to the real world, as well as feeling engaged in our government system.
Rodman explained how AP Government "provid[es] activities and instruction that will help students see the important role they play in our democracy and how they can take action … and make the world a better place by being a part of our government."
Some of the activities that AP Government students participate in every year are the Mock Congress, the Moot Court Cases, the Iowa Caucus, the New Hampshire Primary, the Super Tuesday Election, the Model UN simulation and interest group competitions. In all of these activities, students are able to gain a better understanding of how our government functions effectively.
Rodman noted a study conducted by The University of Washington State. The study illustrated the difference between a solely lecture-based AP Government class to an AP Government class that also included student-engagement activities, such as the ones listed previously that WJ government students partake in every year.
Both classes scored well on the exams. However, the long-term effect was that the activity-based classes left students with a greater understanding of our government, and as a result these students were more actively involved in politics. More students in these activity-based classes went on to run for elections or to work on campaigns, thus highlighting the importance of activities, such as Mock Congress, in producing students who are actively engaged in politics.
Tobias Meier, one of the AP Government teachers, stressed the importance of citizen involvement in politics. "The more engaged that we are as a society, the more that our government will reflect us," Meier said.
Katherine Simmons, one of the APUSH teachers, also touched upon this idea. "I think taking U.S. History is really important so that [students] can be aware as citizens. In order for our republic to work as a republic, we need to have active citizens who participate in our democracy," Simmons said.
But in order to be active citizens, we must know our history to avoid repeating mistakes of the past. Simmons described the way in which her class "helps students understand why we are the way we are today … [and] helps students understand the current political climate."
Simmons emphasized the important role of American history in shaping our decisions today. "I want students to reflect on what has worked in the past, and what will continue to work in the future and what needs to change," Simmons said.
Simmons also acknowledged the way in which we can learn from citizens in the past who brought about great changes. "[APUSH] gives examples of citizens who have taken an active role in trying to change the USA for the better, and what tactics those citizens have used." Simmons added that she hopes to inspire "students to vote for political candidates that stand for values they want to see represented with a better understanding of how policies implemented in the past have worked."
While AP Exam scores are important, there are so many more valuable lessons and skills that we take away from AP Government and APUSH. Our government and history teachers teach us how we, as citizens of the United States of America, can bring about change by voicing our opinions. We learn that we can affect today's policies.
As the 2024 campaign election season approaches this fall, it's important that we don't lose sight of these takeaways from AP Government and APUSH, especially since voter turnout among 18-29 year olds has substantially increased.
"I tell students whether they are advocating for a crosswalk in their neighborhood or running for president of the United States (or something in-between), they can and they will make a difference in their world. I love seeing that, how they can have an impact and change our world for the better," Rodman said.
Your donation will support the student journalists of Walter Johnson High School. Your contribution will allow us to purchase equipment and cover our annual website hosting costs.
About the Contributor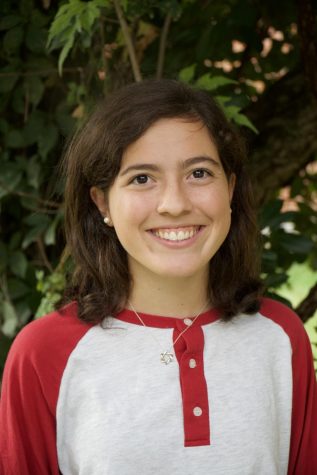 Rachael Wolfson, Print Opinion Editor





This is Rachael Wolfson's second year on The Pitch and second year as a Print Opinion Editor. She is currently a junior. In addition to The Pitch,...