2015 NFL Draft Preview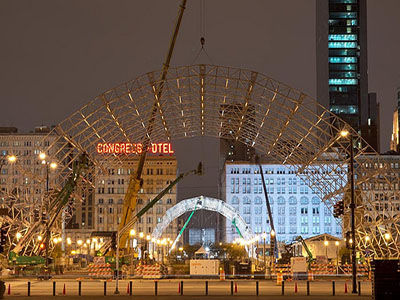 As the 2015 NFL draft approaches, there are many questions to be answered beginning at 8 p.m. on Thursday, Apr. 30 at the Auditorium Theatre in Chicago.  Many fans are wondering; who will go number one overall?  Which quarterback will go first, Jameis Winston of Florida State or Marcus Mariota of Oregon?
Five top prospects to watch:
Leonard Williams:  Williams was a standout defensive end for USC for three years before declaring for the draft.  This year he recorded an outstanding 80 tackles and seven sacks and was named first team All-American for the second year in a row. Williams is one of the most explosive and athletic players in the draft.
Pitch prediction: Williams is almost guaranteed to go in the top five.  He would be a great fit for a struggling Redskins team, and we wouldn't be surprised to see him go earlier, potentially to Tennessee with the number two pick.
Jameis Winston:  Where do we start with Jameis? The most talked about prospect (QB) in this year's draft, Winston comes with an extreme upside as well as question marks.  Winston was nearly perfect during his two seasons leading the Florida State Seminoles, only losing his last game in the CFP to Oregon.  He also threw at least one touchdown pass in every game with FSU.  However, some may question Winston's personal life, as he is well-known to the authorities.  The big story surrounding Jamies was the sexual assault allegations that followed him for much of his collegiate career.  He has also had run-ins with the law after stealing crabs from a grocery store and getting in a BB gun fight, among others.
Pitch prediction:  Jameis will probably go number one overall to Tampa Bay.  His many talents are just too much to pass for the struggling Bucs.
Amari Cooper:  The former Alabama WR hauled in 31 touchdowns in 40 games for the Crimson Tide and lead the nation in receptions and receiving yards his junior year (2014).
Pitch prediction:  Expect Cooper to definitely go in the top ten. Look around the third or fourth pick, Jacksonville and Oakland; these teams could definitely use a threat like Cooper for their young QB's to throw to.
Trae Waynes:  The former standout corner-back at Michigan State was a finalist for the Thorpe award, which goes to the to DB in the country.  Waynes ran the fastest 40 yard time among CB's at the NFL Combine, recording an outstanding 4.31s.  He excels in the deep coverage, which can be a game changer for a team.
Pitch predictions: Waynes will most likely go in the middle first round.  Do not be surprised if he is taken earlier or traded for by a team like the Pittsburgh Steelers that needs defensive backs.
Bud Dupree:  Dupree played four years at Kentucky as an outside linebacker.  He has tremendous skills and his name has been moving up the draft charts as of late.  He ran a good 40 times for OLB's at the combine, coming at 4.56s.  He has the skills to be a tremendous player at the next level.  Many people think that a good defensive coordinator can make him great.
Pitch prediction: Middle first round somewhere around 12 to 15.  the New Orleans Saints could be a good fit with strong defensive coordinator Rob Ryan ready to coach him.
Two underrated prospects who could jump to the first round:
Eli Harold: Harold is a lesser known prospect but certainly comes with a huge skill-set. Harold played linebacker for the Virginia Cavaliers.  His outstanding upper body strength and athleticism are sure to have teams eager to have him.  Expect him to go in the late first round, possibly as early as the Bengals at pick 21.
Byron Jones: The CB from Connecticut put on a show at the combine, which is the main reason why his name is now in the mix for a late first round pick.  Jones made news with a 12.3 ft broad jump ant the combine, which is incredible.  He also has a very good vertical leap at 44.5 inches and ran a good 40 time at 4.36s. Expect him to go very late in the first round or early second round.