New WJSD captains poised to lead Aquacats
Swim and dive is excited and eager to make a huge splash this winter season. Coming off of a canceled season, the energy is high and the damaged spirits have since been lifted. With a large and talented group of about 60 swimmers and divers, a ton of leadership is needed to get the team hyped and ready to take on their opponents. After being voted on by their teammates and ultimately appointed by long-time coach Jamie Grimes, these seven captains are ready to push this team to work to their full potential.
Lianna Rosman, 12
Rosman started swimming competitively when she was 6 years old. She has been a member of WJ swim and dive since her freshman year. So far, Rosman has cherished the camaraderie that comes from high school swimming. She believes it to be a great mixture of the low-pressure and fun environment that comes with summer swimming and the competitiveness of club swimming. Her favorite stroke to swim is freestyle.
"I am excited to lead our team in cheers and to motivate our swimmers to reach new heights in their high school swimming careers. I am also hoping to create a fun and welcoming environment for new faces on the team," Rosman said.
Denis Kalinin, 12
Kalinin began swimming at the age of 9 but became competitive with the sport when he was 13. He has swam at WJ since his freshman year, and this year will be his second year as a captain after being awarded the title his junior year. The best part of WJ swim and dive for Kalinin is the team spirit, camaraderie and overall shared experiences that he has had with the team regardless of the outcomes of their meets. Kalinin's favorite and best stroke to swim is breaststroke.
"I'm excited to be able to help lead the team and hopefully motivate and inspire my teammates. I definitely want to push each other to perform their best," Kalinin said.
Hanna Bingley, 12
Bingley has been swimming competitively since she was in 7th grade. She began her WJ swim career as a freshman. Her favorite part of swim and dive thus far has been having people come to cheer them on at the meets and giving them energy to bring the team together. Bingley's favorite stroke to swim is breaststroke.
"I'm excited to get everyone more involved and spirits and have the freshmen have a fun first year," Bingley said.
Graham Rogers, 12
Rogers started swimming competitively in meets when he was 6 years old during summer swimming, then eventually started swimming year-round when he was in 3rd grade. His WJ swim career began his freshman year and so did his success as he qualified for the postseason divisionals meet as a freestyler. Rogers has loved the camaraderie established by the team, as the team feels like family to him. His time on the team has introduced him to a new sense of spirit, bonding and fun through team meals and cheering on his peers. His favorite stroke to swim is freestyle.
"As a captain, I desire to continue the sense of family that WJSD has bestowed upon me. I want to make sure swimmers remember more than just fast swimming and that they also create fond memories and deep bonds with teammates," Rogers said.
Sienna Karp, 11
Karp has been a competitive swimmer since she was 7 years old. She has been a swimmer for the Wildcats since her freshman year. Karp has had many memorable moments throughout her WJ swim and dive career so far, but her favorite was the Metros meet during her freshman year season. Her favorite stroke is breastroke, but she also enjoys swimming in the IM (individual medley) event.
"I am excited to create an exciting and spirited experience for everyone this season," Karp said.
Parker Koenig, 11
Along with Karp, Koenig has been a competitive swimmer since he was 7 years old. He started swimming for WJ during his freshman year and has had a wonderful experience. Koenig has loved his time on the team. The best parts of being on the team for Koenig have been the great team environment and the electric atmosphere that he witnessed during the Metros championship meet. His favorite stroke is butterfly.
"I am excited to make this year as fun as it can possibly be by leading cheers and motivating me and my teammates to swim as fast as we can," Koenig said.
Arya Gupta, 11
Gupta has been a competitive diver since she was 12 years old. She began her time on WJ swim and dive in 9th grade and also participated in the virtual season last year. She has loved getting to know everyone and since the size of the team is so large, Gupta finds it to be an amazing way to meet new people. Her favorite dives are back and twisters.
"I am most excited to help plan team events," Gupta said.
Your donation will support the student journalists of Walter Johnson High School. Your contribution will allow us to purchase equipment and cover our annual website hosting costs.
About the Contributor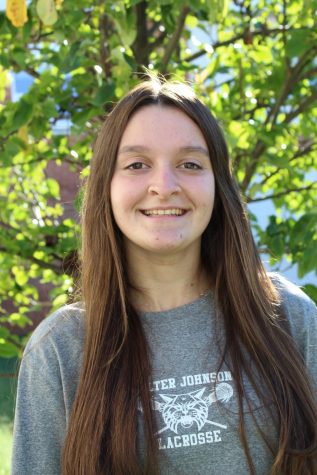 Jillian Ward, Print Managing Editor
Senior Jillian Ward is excited to participate in her second year with the Pitch as a Print Managing Editor. In addition to writing for the Pitch, Jillian...