Shaun White: the history of a legend
Shaun White is perhaps the most well-known winter sports athlete of all time. The name Shaun White carries weight like that of a Tom Brady or Lionel Messi. With a combined record of 15 X-Games medals and three Olympic golds, White is undoubtedly the best to ever do it. So how did achieve such legendary status?
White grew up surprisingly far away from the mountains in San Diego, California. He began his career at just 5 years old before he was even in school. White was turning heads at the mountain doing tricks that adults could only dream of. Just seven years later he would turn pro at age thirteen, narrowly missing a chance to compete at the 2002 Winter Games in Salt Lake City.
This didn't deter White in the slightest. He spent the next four years on the halfpipe competition circuit winning events left and right. His long red hair and short stature garnered him the nickname "The Flying Tomato," a name that came to be feared by fellow competitors.
Come 2006 Shaun White was at the top of his game. At 19 years old White set his sights on gold in Torino. His performance didn't disappoint. White took home the gold on his first run in the finals with an electrifying show. His unmatched ability to gain height out of the halfpipe dazzled the judges and crowds alike. White looks back on this event as his most treasured Olympic memory.
White's Torino was his burst into the mainstream. Those outside snowboarding began to take notice of the "The Flying Tomato". White responded to the attention with grace and ease. His laid-back personality made him a media darling which furthered his popularity.
Mainstream appeal wasn't all good though. Around this time snowboard purists began to resent his success. They saw him as too mainstream; something that fundamentally opposed snowboarding's counter culture roots.
White responded by proving he was the best. In Vancouver 2010 White won gold on his first run, again. He pulled an all new trick out at this event: the double Mc-twist 1260. The competition wasn't even close. The second gold solidified his legitimacy among snowboard purists and strengthened his mainstream appeal. White was riding high.
Around this time White was heating up in skateboarding as well. In 2011 he won X games vert. The snowboard darling had branched out into multiple different disciplines. The sign of a true GOAT.
Winning the third gold in a row at Sochi 2014 would allude White. He was attempting to compete in both slopestyle and halfpipe. The physical toll taken on his body cannot be understated. White ended up dropping out of slopestyle and finishing fourth in halfpipe.
White took the loss as a chance to turn inward. He focused on his band and clothing line as a means of coping and self improvement. He took it as an opportunity to grow up and find self-esteem outside of snowboarding.
White went to the 2018 Pyeongchang Olympics hungry for redemption. Instead of winning on the first run he actually had to work for his medal. On his final drop he laced back to back 1440's to secure the gold. As a three time gold medalist and most winning X games athlete of all time, White had secured himself as the GOAT of snowboarding.
This most recent Olympics in Beijing was somewhat of a victory lap. Shaun again came in fourth place, giving up his top spot to young upstart Ayumu Hirano, the first ever athlete to land a triple cork in halfpipe.
It's safe to say Shuan White has written his name all over the extreme sports history books. We may never again see an athlete so dominant across disciplines in such a physically demanding sport.
Your donation will support the student journalists of Walter Johnson High School. Your contribution will allow us to purchase equipment and cover our annual website hosting costs.
About the Contributor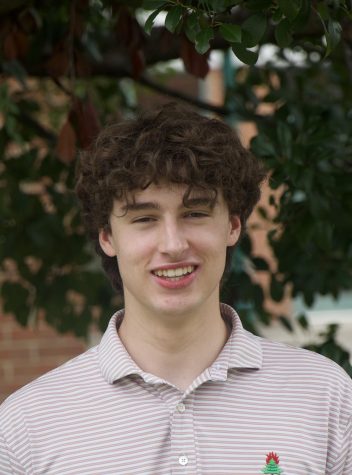 Baxter Roberts, Print Opinion Editor
Baxter Roberts is the Print Opinion Editor for the pitch. He enjoys rowing crew for WJ and hanging out with friends.