Athletes honored at spring sports awards night
As the spring sports 2023 season comes to an end, Walter Johnson teammates and coaches recognize the student athletes who have contributed most to their teams. Each sports team awards a most valuable player (MVP), Sportsmanship and our very own Wildcat Award.
The MVP Award is given to recognize the athlete who has made the most significant impact on their team's success throughout the season. The MVP Award acknowledges the individual's exceptional performance, leadership, skill and overall contributions to their team's achievements.
The following athletes were awarded the MVP of their team: Shoshana Berger for gymnastics, Dexter MacBride for boys' tennis, Alicia Barnett for girls' tennis, Joseph Morris for boys' volleyball, Rio Kato for co-ed volleyball, Jayson Wandell for baseball, Samantha Rosenberg for softball, Colin Neary for boys' lacrosse, Olivia McCloskey for girls' lacrosse, Calix McCormick for boys' track and field and finally, as a duo, MacKenzie and Megan Raue for girls' track and field.
"It was definitely exciting to win a duo award with my sister, our coach told us that not only did we receive the same number of votes, but also scored the same amount of points. I love being able to practice and race with her, we both push each other, but at the same time are not overly competitive. I'm very happy I'm able to share the award with her and it makes it even cooler that we're sisters," junior MacKenzie Raue said.
Receiving the MVP Award is a significant honor for Walter Johnson athletes. It highlights their talent and dedication to their sports and appreciates their outstanding contributions to the team. It is a reward for hard work, commitment, and overall excellence that was shown throughout the season.
The Sportsmanship Award is given to recognize an athlete who demonstrated sportsmanship qualities both on and off the field. This award acknowledges students who show respect for their teammates and coach, respect for opponents, honesty and positive attitude throughout the entire season.
The following athletes were awarded the Sportsmanship Award for their team: Gianna Relacion for gymnastics, Frans Rejsjoe for boys' tennis, Samantha Cohen for girls' tennis, Jacob Sher for baseball, Allison Berube for softball, Dylan Schmidt for boys' track and field, Viktoria Koch-Paiz for girls' track and field, Brooke Scherr for girls' lacrosse and Nicholas Zampardi for boys' lacrosse.
"It means a lot and I am honored to get it. I couldn't have done it without my teammates and coaches," Zampardi said.
This award emphasizes the importance of ethical behavior, teamwork, and respect for the game, teammates, coaches, officials, and opponents. It recognizes athletes who consistently display good sportsmanship, regardless of the outcome of the competition.
Finally, the Wildcat Award is unique to Walter Johnson students. This award celebrates the most well-rounded athletes, who show characteristics of sportsmanship and skill as well as a great attitude and who motivate their teammates to do the best that they can at all times.
The following athletes were awarded the Wildcat Award for their team: Amelia Tzeng for gymnastics, Evan Rothberg for boys' tennis, Riya Pradhan for girls' tennis, Braden LaChapelle for baseball, Brooke Levin for softball, Koki Takizawa for boys' track and field, Soukeyna N'Doye for girls' track and field, Ellie Hilton for girls' lacrosse, Noah Diamond for boys' lacrosse, Guy Saltsman for boys' volleyball and Kylie Austin-Vaias for co-ed volleyball.
"I was hoping to get an award but was not sure if I was going to. I am very happy that my teammates thought that I deserved it," Austin-Vaias said.
These awards that are given every season are a great opportunity for student athletes to get recognized for all of their hard work and dedication to their team. They encourage and motivate students to do their best.
Your donation will support the student journalists of Walter Johnson High School. Your contribution will allow us to purchase equipment and cover our annual website hosting costs.
About the Contributor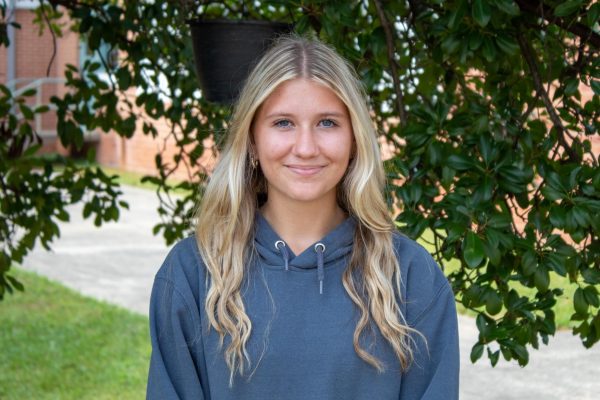 Hillevi Schine, Staff Writer
Hillevi Schine is a senior and a staff writer this year on the Pitch. She is so excited to be a part of this newspaper. In her free time, she enjoys hanging...