Ovechkin Scores in the Hearts of WJ Students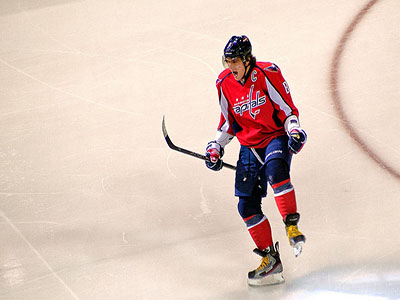 On Jun. 26, 2004 in Raleigh, N.C., the Washington Capitals took a big gamble drafting a Russian prospect named Alex Ovechkin. They weren't sure of Ovechkin's potential, but they took the gamble anyway.
Over a year later on Oct. 5, 2005 Ovechkin made his NHL debut for the Washington Capitals as they faced the Columbus Blue Jackets in their season opener. It was the Caps' first game since 2004, due to the NHL lockout. Over 16,000 fans showed up, anxious to watch the Russian star play his first ever NHL game. Ovechkin did not disappoint.
On his first shift of the game, Ovechkin threw a check so hard, he knocked a support beam off the glass. Then, in the second period he fired a one-timer from the left circle, past the Columbus Blue Jacket goalie Pascal LeClaire, for his first ever NHL goal. Ovechkin wasn't done there; just one minute and twenty nine seconds after the Blue Jackets scored to take the 2-1 lead, he ripped a shot on the power play, past Leclair again, for his second goal of the game bringing the score to 2-2.
In the years to come, Ovechkin would only continue to impress critics and spectators, earning him multiple MVP, scoring and other prestigious awards. Up until this year, Peter Bondra led the Caps in all-time scoring with 825 points. However, on Nov. 4 in a game against the Calgary Flames, Ovechkin turned around the left circle and fired a shot which deflected off of fellow linemate Nicklas Backstrom's stick and went through Flames' goaltender Jonas Hiller. This assist pulled Ovechkin ahead of Bondra as the Caps all-time leading scorer.
Fans around the area reacted after Ovechkin broke the Caps all-time scoring record,
"I think that Ovechkin deserved to break the record," said freshman Sarah Gagne. "It's clear that he worked hard to earn so many points."
However, not everyone feels this way.  Freshman Antoine Bujold-Roux doesn't believe that Ovechkin should have broken the Caps all-time scoring record.
"Even though [Ovechkin] puts up a lot of points, he doesn't play defense at all," said Bujold-Roux. "I don't think that he works hard during games so he shouldn't have broken the record."
Even though Bujold-Roux doesn't agree with how Ovechkin plays defense, he agrees Ovechkin is one of the elite players in the NHL.
"I think that it's really impressive that Ovechkin can continue to put up 50 goals almost every year," he said.
Sophomore Natalie Porter is optimistic about the future ahead for Ovechkin and the Caps.
"Ovechkin has brought so many positives to Washington since he's come," said Porter "He's worked so hard to achieve many things like the Caps all-time scoring record." She also said that she thinks the Caps have the potential to win the Stanley Cup with Ovechkin as captain. "He is a good leader and cares for his team so much. He only does the best for his team."
Throughout his career, fans have learned that Ovechkin is unpredictable; One game he might have no goals or assists, but then in the next game he might break out and score two goals. This has been an ongoing pattern for the nine years that Ovechkin has been in the NHL, shattering records that no one would have predicted breakable. No one knows what lies in store for the rest of Ovechkin's career, but both fans and critics alike can agree that whatever is in store is bound to be amazing.