Wizards Starting to Get Some Love from ESPN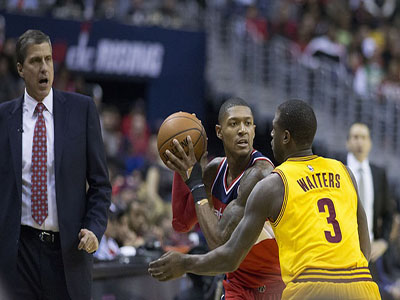 After the Washington Wizards' outstanding season last year, which featured a trip to the second round of the Eastern Conference playoffs, ESPN decided to televise multiple games throughout the 2014-15 NBA season. 
The Wizards made their ESPN debut earlier this season when they played host to the Indiana Pacers.  In that game, they won in overtime, and star point guard John Wall finished with 31 points and 10 assists.  Last Friday, the Wizards played their first ESPN Friday night game against the Cleveland Cavaliers.  Although the Cavaliers trail the Wizards in the standings at this moment in time, they still feature one of the best starting lineups in the NBA with LeBron James, Kyrie Irving and Kevin Love.
The Friday night game was a great statement win for the Wizards. Not only did they win, but it was also it was their first sellout of the season, and  the crowd could be heard the entire game, applauding great plays by point guard John Wall and a great effort off of the bench by power forward Kevin Seraphin. The whole area near the Verizon Center was rocking all night and the great play of the Wizards helped to energize the fans.
The Wizards have seven more games on ESPN, including important games that are coming up against the New York Knicks, Chicago Bulls and Oklahoma City Thunder that will all be televised on the network.
This is only the beginning of better basketball in Washington, and the addition of prime time match-ups against great teams in the league helps energize the team and fan base.