Sports World Reacts to Michael Brown and Eric Garner Stories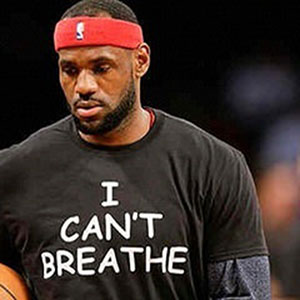 Many Americans are aware of the ongoing protests that are going on in reaction to the the police officer who shot and killed Michael Brown. They are also probably aware of the protests that are going on in response to the controversial decision by a grand jury not to indict the NYPD officer, Daniel Pantaleo, who put Eric Garner in a fatal choke hold.
Some of the people who are especially aware of these protests are in the professional sports world. Athletes such as NBA players LeBron James, Kyrie Irving, Deron Williams and Derrick Rose have all taken stands on social media.  Additionally, some members of the St. Louis Rams in the NFL walked out onto the field before a home game against the Oakland Raiders while making the gesture "hands up, don't shoot" made famous by the shooting of teenager Michael Brown.
"It's not a Cavs thing. It's a worldly thing," LeBron James said before a game against the Brooklyn Nets. He donned an "I Can't Breathe" shirt, referencing Eric Garner's last words, in reaction to and in support of him.
Some athletes feel very strongly about these issues because they grew up in similar situations and could have been involved in one of these incidents.  There were many protesters outside of the Barclays Center in Brooklyn who, for ten minutes, laid down on the ground  to protest Eric Garner.
When many famous athletes are taking a stand against these acts of violence show that they are not only focused on succeeding in competition, but also try to raise awareness for issues that they feel strongly about and that are and important to many.