Rasheed Sulaimon joins a Terps team that may be the best of all time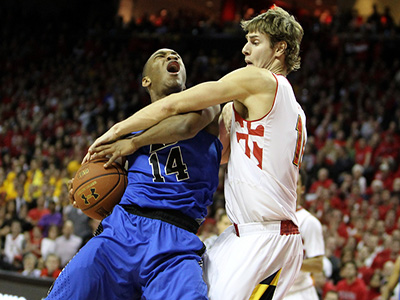 On Jan. 26, 2011, the University of Maryland men's basketball team endured a rout by the Duke Blue Devils, losing by a score of 84-64. In that contest, Duke freshman Rasheed Sulaimon poured 25 points on the Terps, including six jumpers from the three-point line. Roughly four years later, the star-studded, 6 foot 4 guard plans to attend his former rival school, and may complete the most talented Terps squad of all time.
Sulaimon planned to graduate from Duke in 2015, but after a surprise dismissal from the Blue Devils in January, he immediately listed Maryland as one of his top choices of schools to transfer to.
"[The Terps] are great guys on and off the court, and they embraced me. At the end of the day, I wanted to go somewhere to have the opportunity to be part of something bigger than myself," Sulaimon told ESPN.
Sulaimon has also held a bond with Terps head coach Mark Turgeon.
"I've known Coach [Mark] Turgeon and [assistant coach Dustin] Clark since I was 13. I trust them," Sulaimon told ESPN immediately following his decision to transfer to Maryland.
Turgeon, who sees Sulaimon as the final piece of the puzzle for next year, has maintained a strong relationship with Sulaimon over the past few years and seriously recruited him prior to his commitment to Duke.
"I've known Rasheed and his family since he was 13, and I believe in him. There's a trust factor, and we've had a strong relationship," Turgeon said.
Yet, even though Sulaimon brings a slew of talent to the Terps, it's hard to not question his actions off the court. In January, Duke head coach Mike Krzyzewski supposedly dismissed Sulaimon for attitude issues, and it was reported that Sulaimon was involved in a sexual assault during his freshman year.
Despite the allegations, Sulaimon denies any report of his inappropriate conduct.
"There's no proof because I didn't sexually assault anyone," Sulaimon told ESPN.
Although fans are exuberant about Sulaimon's choice to join the Terps, the outlining feature is the  apparent level of professional talent that the Terps will have in their starting five next year. The Pitch Online previews this sensational lineup.
PG: Melo Trimble, sophomore
Trimble will lead the Terps next year after a sensational freshman campaign, in which he averaged 16.3 points per game, and shot a scorching 44% from the field. To add, Trimble played a fantastic NCAA tournament, contributing 29 overall points before injuring his head in a third round match-up against West Virginia. Arguably the Terps' most talented freshman in years, Trimble's poise and talent could lead to an MVP season for him in the 2015-2016 school year.
SG: Rasheed Sulaimon, senior
Although Sulaimon only averaged 7.6 PPG in his short-lived junior season at Duke, his skill-set and shooting range are largely impressive, and he will become part of a killer backcourt guard duo with Trimble at the helm.
SF: Jake Layman, senior
Layman, who is expected to be a mid-range second round NBA draft pick for the 2015-2016 season, chose to return for his final season at Maryland next year to the delight of the Terps' fans. 
"Maryland is my home, and we had great success this year. There is so much to look forward to next season, and I'm excited to be a part of it," Layman told ESPN immediately after announcing his decision.
Layman's impressive wingspan and height, combined with his innate ability to shoot from beyond the three-point line, will largely contribute to a stacked frontcourt.
PF: Robert Carter, senior
Carter will join the Terps after transferring from Georgia Tech at the end of his sophomore season. Due to NCAA transfer rules, Carter is only eligible to participate in one season at Maryland, but his size and strength are superb qualities for the squad to have. Averaging 11.4 PPG and 8.4 rebounds in his sophomore season, Carter will look to serve as Diamond Stone's sidekick in the frontcourt.
C: Diamond Stone, freshman
Stone, a five-star recruit and McDonald's All-American, represents Mark Turgeon's highest ranked freshman recruit. Ranked No. 7 on ESPN's "Top 100 Recruits", Stone , a 6'11 powerhouse, will look to tower over rival centers with his 250-pound strength and massive height. Turgeon, who is about to boast one of the Terps' best frontcourts in history, could not be more ecstatic about the addition of Stone to the squad.
"I think Diamond gives you a big body. He gives you a big physical presence. We had shot-blockers this year with Damonte and Checko. They'll continue to give us that. We'll have a thickness, muscle around the rim, as Checko gets bigger and Damonte gets better. Adding Diamond and Robert, with all those pieces, we should be a much better rebounding team," Turgeon told ESPN immediately after signing Stone.
With such a highly solidified and intensely talented lineup, the Maryland Terrapins have a legitimate chance at winning their second national championship and are likely to be a preseason top five team, but WJ students are being cautious. Sophomore Andrew Burklow, who is incredibly excited about next year, voiced his concerns about the potential for bust.
"Superstar teams like these always seem to bust in the long run. Last year's Kentucky, for example, couldn't close it out. I have high hopes, but I think Maryland fans need to proceed with caution," Burklow said.
With the addition of Sulaimon, though, the Maryland Terrapins are primed for a National Championship come 2016.