Wizards lose for the second straight year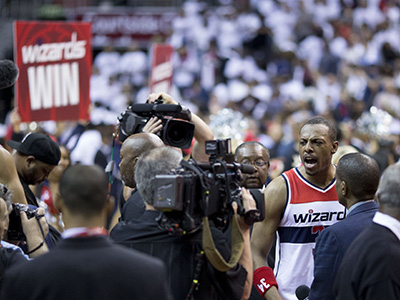 This past May, the Washington Wizards lost in the Eastern Conference Semifinal for the second year in a row, this time to the Atlanta Hawks. The Wizards were looking to win their first NBA title since 1978, but this time the series ended with emphatic cheering from both the Wizards bench and the sell-out Verizon Center crowd. After an impressive first round sweep against the Toronto Raptors, the 5th seeded Wizards turned to the top seeded Atlanta Hawks, who were coming off of a 60 win season. After going up 2-1 in the series, the Wizards dropped three straight games, losing the series 4-2.
Freshman Aziz Diamonde, who has followed the Wizards since he was eight years old, said that he believes that the Wizards would have had a better chance to win if their star point guard, John Wall, hadn't been injured.
"Even though John Wall came back, he wasn't 100 percent," said Diamonde. "He's a much better player when he's fully healthy."
Diamonde, along with many other Wizards and DC sports fans, is justifiably frustrated with the lack of success from D.C. sports teams in the last 20 years, especially the Wizards,
"It's obviously frustrating having a team go so far in the playoffs two years in a row, and lose both times," said Diamonde.
Despite his frustration, Diamonde said he is happy about how the Wizards have fared out in the last couple of years.
"The Wizards are doing much better though," said Diamonde. "Four or five years ago the Wizards were one of the worst teams in the league, but now they are a much stronger, better and younger team, and they've made it far in the playoffs in the last two years."
Many Wizards fans around the area are optimistic about what is to come next year.  However, for some players that is not the case. In a recent interview with ESPN, Wizards playoff star, Paul Pierce displayed his doubts about his NBA future,
"These rides throughout the NBA season and throughout the playoffs are very emotional," said Pierce. "They take a lot, not only out of your body, but your mind, your spirit…The hardest thing to do is put the game down. But I know that time is coming one day."
The departure of a veteran such as Pierce would come as a big loss to the Wizards, but freshman Hank Roll pointed out that it would open up room to add more younger players to the already young Wizards team.
"The Wizards are a very young team, and it's good that they're getting playoff experience now so that a couple years down the road they can go far in the playoffs," said Roll.
Diamonde, along with many other D.C. faithfuls, are remaining buoyant about what the future has in store for the Wizards.
Said Diamonde, "I think that the Wizards with a healthy team would be able to win the championship…they have good enough coaching and depth that can get them far in the postseason."