17 things you should do before you graduate high school
One day we will grow up, but high school will never fade away. We've been creating memories from the time we were considered reckless spoiled children who could get away with everything (or at least most things) until graduation. That's why I think those are the 17 things you need to do before you graduating high school:
Skip school
Not encouraging skipping, but if you didn't skip school at least once you need to prepare for a day with your friends. I suggest you wait for senior skip day and you and your friends can go and have a big adventure! If school is important for you and you never skipped, think about a time when you're 30 and missing the memories you didn't make in high school!
2.  Ask someone out
This is important! It's time to have your first date if you didn't. And it's also time to build some courage and ask someone out. Asking someone out and going on a date is of vital importance in high school. 
3. Get rejected
What if the person you asked out said no? 
It's okay that you got your first rejection. Our life is designed by the embarrassing moments we have to endure. Getting rejected, although seemingly bad at a time, is something that you'll remember fondly when you're a 30 year old successful person. Getting rejected is an inevitable life experience, the sooner you get it done, the better!
4. Have your first kiss
That was probably something that jumped to your mind the moment you read the title! Getting your first kiss is an experience in itself. It's the moment you jump from childhood to adulthood. I would understand if you wanna make it special with the person you like, however, so no pressure. You don't want to miss out for so long!
5. Sneak out of the house at night with your friends 
Growing up watching all the cartoons about adventurous kids, I always dreamt of the time I would have a group of friends with whom  I would solve a mystery at night. You can sneak out (or ask your parents if they agree), grab a tent, a couple of snacks and make a night an adventure. You can play in the park, eat pizza and ice cream, watch the sunset, and explore Bethesda's empty nightlife. 
6. Pull an all nighter
You probably did this with your cousins when you were a child: Not sleeping all night, playing board games, watching five movies at least and diving in the fridge like starved animals. Doing that with friends or cousins, if you haven't already, is a childhood experience that you don't want to have missed when you become an adult!
7. Conquer your fear
We all have fears, and most importantly, childhood fears! Whether it's a phobia of spiders, snakes, heights or closed spaces, it's time to conquer your fear! Like Bruce Wayne conquered his fear of bats by standing with bats rushing through him, you need to conquer your fear by looking at it right in the eye and telling it to back off. 
8. Fail a test
Being an A student is important, but the feeling of failing a test is still adrenaline rushing. Failing a test at least once would be something to remember for the rest of your life. 
9. Confess your love 
We only regret the chances we didn't take. If you like someone, telling them before school is over might be a good idea. I mean the chances of you ever meeting them again are slim and you never know- maybe your crush will be like Beth Cooper! 
10. Talk to someone who you know exists but aren't friends with
Class grades right now are between 600 – 900 people. You meet a lot of people in your class everyday that you might not be friends with. It would be nice to make friends with someone you never talked to but know from your classes. 
11. Take a class you never thought you would
Exploring career options is also an important part of high school. Taking a class like art, philosophy, psychology, sociology or ceramics is also a good way of going out of your way to explore career options and enjoy classes you would normally think aren't your taste. 
12. Go to a football game
You wouldn't believe this but I found that some people hadn't gone to a football game yet. Turn out is increasing after the continuous successes, but still there are people who hadn't gone yet. You'll regret it when you're a 30 year old successful worker who didn't attend their high school football games because they are extremely fun!
13. Attend an event you wouldn't normally attend
There's always an event going on at WJ, such as a basketball  game, Bachelor, Glo, Family Feud, Clash Of the Classes, flocking and Ninja Tag. Those are amazing experiences that you should try before graduating high school!
14. Participate in spirit
Spirit week is a fun week, and everyone is dressed in funny outfits that make you laugh. Participating in spirit and getting hyped up is phenomenal! It's a huge part of WJ culture and getting involved is a great way of having fun and enjoying high school!
15. A school achievement
Achieving something in high school is important! 
Some examples are: 
reading 50 books during the 4 years

 learning a new language 

 joining a club and being an active member
16. Travel to at least one country 
The world has a lot to offer. Expanding your perspective and visiting at least one other country before you graduate is important. You can  visit Europe, Latin America or Asia.Top countries that attract tourism always offer a different perspective from what we are used to!
17. Be adventurous!
I wouldn't outright suggest this because I wouldn't do it myself, but there are a lot of adventures out there and the least you could do is try some. Examples: Jumping off a cliff, bungy jumping, diving, parasailing and many more nature related adventures. 
In the end, remember that you'll only be a high schooler once, so make the most out of the experience!
Your donation will support the student journalists of Walter Johnson High School. Your contribution will allow us to purchase equipment and cover our annual website hosting costs.
About the Contributor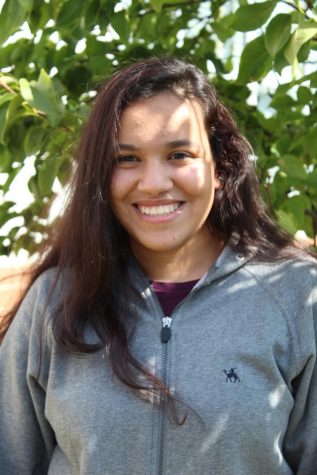 Maram Faragallah, Staff Writer
Maram Faragalah is a senior at WJ. She loves writing and reading books. She is extremely excited for her first year on the pitch. During her free time...