Teacher Poms Become Official WJ Sports Team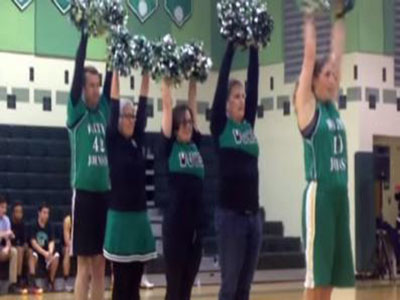 Hang on for a minute...we're trying to find some more stories you might like.
Everyone loves an underdog story, and this spring sports season, a very uncommon squad may bring home the gold to WJ. The teacher Pompons or Poms squad, which has made various appearances at fundraising events throughout the years, has finally been named as a real high school sports team.
Although the teacher team has never been recognized as a real team at WJ before, our very own squad, affectionately known as WJ Toms, is now competing in a nationwide teacher poms competition. The first prize is a yearlong supply of apples and a shiny plastic trophy to show off in the teachers' lounge. The Toms squad has been practicing hard to perfect their routine.
Ms. Sandra Lee, captain of the WJ Toms, revealed just how they fit in practice time with such busy schedules.
"Sometimes, while my students are taking tests, I find it can be a great time to fit in some practice. While it my look like I'm just walking around the room, in reality I'm sashaying my way to victory," she said.
According to Lee, the Toms practice three times a week both during lunch and after school. Their competition, which will take place on April 31 in Pawnee, IN, will feature teacher poms squads from across the U.S. all shaking their pompons for the title.
When walking by the dance studio, keep an eye open for the WJ Toms squad – you might just stumble upon the performance of a lifetime.

About the Writer
Kelly Chartrand, Co-Online News Editor
This is senior Kelly Chartrand's first year on The Pitch. As Online News Editor, she is excited to work alongside her coeditor Anna Hovey and the rest...