Bryce Harper deserves to be booed in DC return
Hang on for a minute...we're trying to find some more stories you might like.
This offseason's MLB free agency was one of the most exciting the baseball world has seen in a long time, with young but veteran stars Bryce Harper and Manny Machado hitting the market. For Nationals fans, seeing Harper sign with arguably the biggest division rival in the Philadelphia Phillies is a stab in the back, especially since the Nationals reportedly did offer him the long-term $300 million contract he was looking for.
Harper is shallow and it's apparent he only cares about money. The Phillies signed him for $330 million over 13 years, the largest contract in American sports history for about two weeks, a title he was blatantly shooting for. Sadly for Harper, Mike Trout's recent 12 year $430 million contract extension blew the $330 million deal out of the water, making it the largest contract in professional sports history. The Nationals gave Harper everything a player could've asked for. It's the organization that drafted him 1st overall in the 2010 draft at the age of 18. The organization pulled him up to the big leagues at the age of 19, and the fan base took him under their wing immediately. Through all his haircuts, his antics, his dugout scuffle with Jonathan Papelbon, his charging the mound against Hunter Strickland, "that's a clown question, bro" and more; Nationals fans stuck with him. Harper repeatedly said through his time in DC that he'd like to stay a National, even reaffirming this point after a dramatic Home Run Derby victory in front of the home faithful in the 2019 All Star game.
Though the love has persisted, Nationals fans have seen the evolution of Harper. When he first came up, he played baseball in the big leagues like a high school player. Harper would recklessly pursue balls in the outfield, run as hard as he could on every hit, and even stole home after being intentionally hit by veteran Philadelphia Phillie ace Cole Hamels at the age of 19 on national TV, and was the epitome of 'Charlie Hustle'. Though I'm more of a pitching guy, Bryce was definitely one of my favorite players when he first came up.
After a mid-July, seemingly boring Nationals game against the New York Mets in Harper's rookie season, me, my friend and his dad left the stadium and had to get gas. Just staring out the window, I noticed a tall, younger guy driving an old sports car. It only took me seconds to realize that it was 19 year old Bryce Harper. I ran out of the car and asked him to sign the Harper shirt I had just gotten at the game. Harper was wearing what a typical 19 year old would wear; sweatpants, some random shirt and a hat. His car was obviously the one he's been driving since he was 16. Unless you followed baseball, he looked like a fairly normal guy, not a budding superstar playing at the highest level at the age of 19. Bryce began to change. First it was the new haircut where he'd flip his hair after every home run, then it was a regression of the 'Charlie Hustle' mentality (Harper was actually benched for a game for a lack of hustle), then it was the sole pursuit of money. I wonder, how would he react today if two young fans asked for his autograph at a random gas station?
Nationals fans, please don't have sympathy or respect for Harper. The Nationals don't need him because little does the MLB know, a new 19 year old outfielder entered town last year by the name of Juan Soto. Harper certainly changed the culture, but not the results. He never lead the team past the NLDS, the elephant in the room for every Nationals fan. This fanbase has shown Harper every bit of loyalty, and now, he's shown none in return. Nationals fans, you have been doubted as a real fan base for years, and this is the time to prove you're legit. If Bryce returns, after signing with the fiercest division rival, and at least 75% of the stadium isn't booing, then I agree; the Nationals have a weak fan base.

About the Writer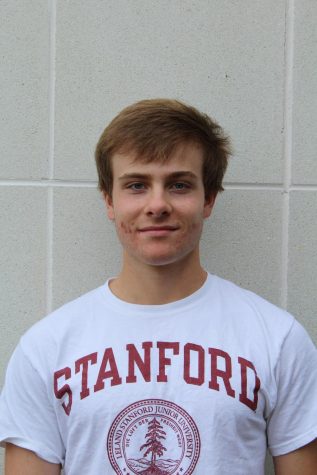 Ian Rees, Online Editor in Chief
This is Ian's second year on the Pitch, and he's excited to work as an Online Editor-in-Chief. Outside the Pitch, you'll see Ian hanging out with...