Tastiest foods to enjoy in the summer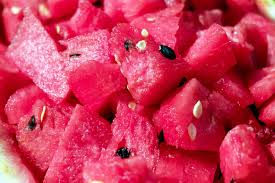 It's that time of year again! Summer is just around the corner and it is finally an acceptable time to start thinking about all the deliciousness that the approaching season brings. There are so many different types of summer cuisine, it is almost impossible not to have a personal favorite.
"My favorite summer dish is crabs. I love eating crabs with my family at my house," senior Kyle Bryant said.
In this area, crabs are a very popular summer dish due to the close proximity to the Chesapeake Bay, which provides more than one-third of the nation's blue crab catch. When in Maryland, it is likely to see crabs everywhere, from stickers on the backs of cars to signs plastered to the front of restaurants. Besides crabs, there are numerous other dishes that people enjoy when it gets hot out.
"Hot dogs and watermelon are the best to eat in summer. I love eating them on the beach, at the pool or even just in my house with my family and friends. My family and I like to buy the watermelon and hot dogs from the grocery store and then come home and enjoy the food altogether," freshman Jacob Swaim said.
A common theme in summer cuisine is enjoying food while surrounded by family and friends. Sophomore Mackenzie Matyas enjoys the social aspect of summer foods and loves spending time with the ones closest to her.
"The best thing about summer food to me is that I love hanging out and catching up with my friends and family. I think the best summer food to eat is pizza! Pizza is a really social food and everyone is able to share it and eat it together. I love eating pizza on the beach in the summertime at night, so I can watch the sunset while I enjoy my food," Matyas said.
Although food is the usual star of a summer meal, let's not forget about an important aspect of the ideal summer dish: the drink.
"In the summer, I like cold and fruity drinks, such as smoothies. Jamba Juice, Smoothie King and Tropical Smoothie Cafe are three great places to get a cold drink in the summer. My favorite summer smoothie is from Smoothie King and it's called the Caribbean Way," junior Kayla Kahrl said.
The Caribbean Way smoothie is a great refreshing beverage. It is made up of strawberries, bananas and papaya juice, all blended together with ice to create the ideal summer drink. Some other popular warm weather drinks on the Smoothie King menu include the MangoFest (mangoes, apple-pineapple juice and papaya juice) and the Island Impact (pineapples, mangoes, papaya juice, apple-pineapple juice and protein blend).
"Summer foods are not only delicious, but they taste even better because just because I'm enjoying them in the summer," sophomore Madigan McConnell said.