Puppybowl over Superbowl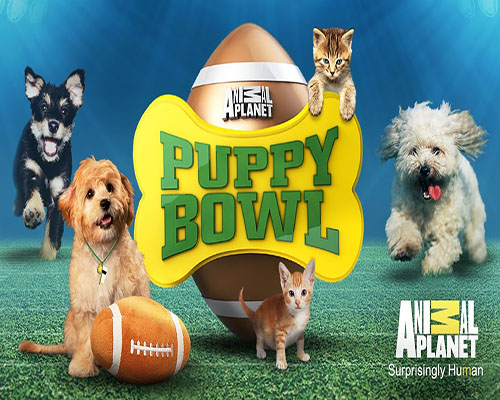 Both the Puppy Bowl XIII and Super Bowl LI were played this past Sunday, February 5, but I honestly always would rather watch the Puppy Bowl over the actual Super Bowl. The Puppy Bowl, which is hosted by Harry Kalas and Scott Graham on the Animal Planet channel, is so cute since it's mimicking the actual American Super Bowl – even with its own referee, Dan Schachner. The Puppy Bowl has been on TV since 2005 and the first Super Bowl played was in 1967; time flies by so fast.
I'm not a huge sports fan, so watching the Super Bowl with my family and friends with them yelling and cheering about something i'm not into is not enjoyable for me. So if you're not a sports person, like me, then instead of watching the Super Bowl you can watch the Puppy Bowl because there are PUPPIES! It's so cute and funny to see them on a mini football field with commentators announcing the event like it's a real game. The Puppy Bowl is best to watch with friends and to chill, especially when there are other animals that appear on the Puppy Bowl, such as a hamster "running" the scoreboard, a parrot tweeting about the show, bunny cheerleaders and, of course, the Kitty Halftime Show. The Kitty Halftime Show this year had wonderful "performances" like the Chicago Rock Cats who"played" multiple instruments with guest star Kitty Gaga "singing" at the top of her lungs. The kitty fans were all jammin' out to the amazing performances with their colorful light up collars.
The Super Bowl commercials may be the funniest, but I definitely prefer the Puppy Bowl. I remember the Super Bowl halftime performances like Beyonce Knowles and Bruno Mars. I only like the Super Bowl commercials and halftime show, but for the Puppy Bowl I like everything. So if all the Super Bowl commercials, halftime performances and the entire Puppy Bowl show were one show, I would be so happy and always be excited to watch.