Trump's inauguration ends in celebration and protest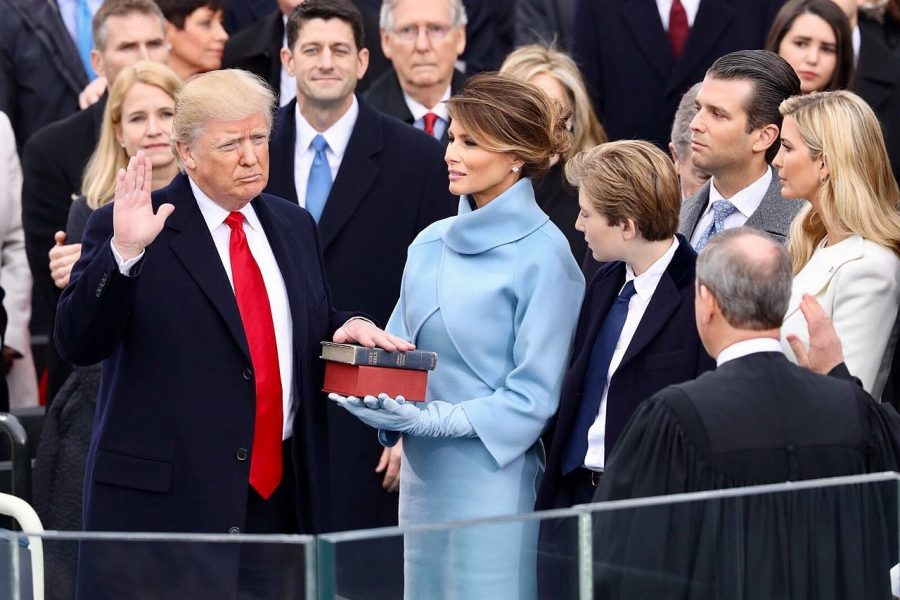 Steven Roth, News Editor
February 27, 2017
From killing Osama Bin Laden to passing healthcare reform, the eight-year Obama presidency officially came to a close on January 20, with the swearing in of Donald Trump as the 45th President of the United States.
The transition of power began with the inauguration ceremony where President Trump took the oath of office and delivered his inaugural address.
"We are not merely transferring power from one administration to another, or from one party to another — but we are transferring power from Washington D.C. and giving it back to you, the American People," President Trump said. "From this day forward, a new vision will govern our land. From this moment on, it's going to be only America First. America First. Every decision on trade, on taxes, on immigration, on foreign affairs, will be made to benefit American workers and American families."
The inaugural address was later followed by the inaugural parade where Trump and his family were first driven and then walked down Pennsylvania Avenue, waving to citizens who had waited hours to see the newly elected President in person.
"America just inaugurated an amazing leader," senior and Young Republicians club President Brendan Cassell said. "Our second amendment is saved. As Alex Jones would say, it's over for the globalist."
The turnout for the inauguration was smaller than for President Obama's first inauguration, but many of Trump's supporters who traveled to Washington DC for the occasion were still very excited to be there. Others were less enthusiastic.
"This whole Trump Inaugural Parade has felt and had the energy of a funeral. And the empty stands/small crowds reinforce the hollowness," Twitter user Jeff Perera said.
Also in the crowd during the inauguration and parade were people who came to protest against President Trump.
"We're considering it the counter-inauguration," Ben Becker of the ANSWER coalition said. "The main message is that there is going to be a grassroots movement of resistance to the Trump agenda from Day One of his presidency."
These and other protests took place before, during and after the inauguration. Anti-Trump protesters that took to the streets started to clash with police officers in downtown Washington, starting small fires and throwing bricks and rocks at officers. The officers responded with flash-bang grenades and tear gas to combat the protesters.
"We heard a loud explosion; it was louder than a gun, but not as loud as a bomb," Casey McClure, a Whitworth University student, said. "We saw the smoke from chemical spray and people frantically coughing with tears staining their faces. Protesters were throwing rocks at police and trying to block the parade route that Trump is supposed to lead."
Other protesters were less violent, but still resolute in their opposition to President Trump.
"I'm all about peaceful protesting, practicing nonviolence, but at the same time, I understand why people are so frustrated," Inauguration attendee CNN interview. "They are so upset about so many things in our country right now that to make a poster? There's not a poster big enough to cover all the things that people are frustrated about."
But many Americans, no matter their political party, feel strongly about having an open mind and giving the newly elected President the opportunity to prove himself, especially as he has just recently started his term and that he will be the President for the next four years or possibly for the next eight years.
"Donald Trump is going to be our president. We owe him an open mind and the chance to lead. Our constitutional democracy enshrines the peaceful transfer of power and we don't just respect that, we cherish it," Hillary Clinton said.
After a long day of celebration and protesting, the inauguration concluded with President Trump and his family attending three different balls, the Liberty Ball and the Freedom Ball at the Washington Convention Center and the Salute to Our Armed Services Ball at the National Building Museum, where they celebrated with family, friends and close supporters.