The 1975 releases new album "A Brief Inquiry into Online Relationships"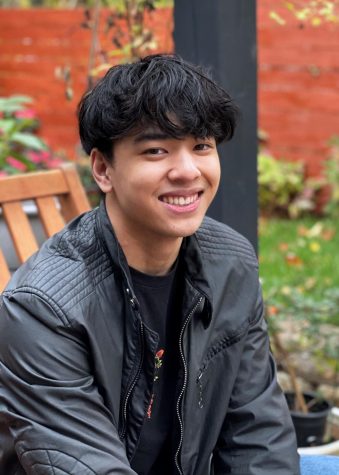 More stories from Benicio Balignot
After a two year hiatus from producing new songs, the British band, The 1975, makes its triumphant and borderline-excessive return to the music scene with its critically acclaimed third album, A Brief Inquiry into Online Relationships – the first of two albums to be released in their "Music for Cars" era. This comes after a lengthy and abstruse promotional campaign that began earlier this year in April.
The album is, for the most part, a return to form for the band – maintaining their core identity as an eclectic indie "pop-rock" group accompanied by an outrageous style, with sounds coming from all across the musical spectrum. Their songs range from soft, ethereal acoustic ballads to retro, 80s pop and "Breakfast Club" reminiscent tracks. There are splashes of influence from the likes of Bon Iver and Michael Jackson to name a few. However, as if in reference to its name, the album's general theme revolves around the modern world's obsession with trends and reliance on the internet to form relationships, serving as the band's social and political commentary on current events.
The album begins with a jazzy, acoustic remix of their opening title track, "The 1975," juxtaposed by lead singer Matt Healy's heavily autotuned vocals. This serves as a tonal shift to the versions shown in their past two albums, The 1975, and I Like It When You Sleep, for You Are So Beautiful yet So Unaware of It, in which Healy's voice cuts through the raw, ambient basses and synths playing in the background. However, its lyrics remain unchanged, utilizing the same various sexual euphemisms the previous two had.
Following the opener is "Give Yourself A Try," which in contrast to the previous songs' sound, is very upbeat and pop-sounding. Healy's lyrics are about needing to break from one's old norms to try something new, accompanied by the constant blare of an electric guitar. "Give Yourself A Try" is reminiscent of early 2000s pop-rock songs, sounding rebellious in nature. However, despite seeming like just another pop song to fluff up an album, the song is a tribute to the English post-punk band Joy Division's lead singer, Ian Curtis, who committed suicide on May 19, 1980. In honor of Curtis, the song interpolates a guitar riff from their song "Disorder."
Where the album really hits its apex is "Love It If We Made It," a true anthem of our time which is so reflective of our current society that it's as if Healy is holding a breath-stained mirror to our face and is demanding that we face the truth. An ensemble of instruments paves the way for Healy's raw and emotional vocals about how while modernity has failed us and that the world is in a relatively poor place, he hopes that we'll still make it out in the end.
In contrast to the previous song's fist-pumping energy, "Be My Mistake" is a slow ballad about a meaningless hook up after, or even during, another relationship. The soft strumming of an acoustic guitar highlights Healy's heartfelt vocals about regret. In an interview with Pitchfork, Healy had an explanation about the song's lyrics.
"Be My Mistake" is just about guilt. It's about when you are a young person and you struggle sometimes to figure out what you really want. And sometimes, like a lot of things, it requires you to make a mistake before you actually understand what you have," Healy said.
After "Be My Mistake" comes what many would argue to be the most popular song of the album, "Sincerity is Scary," which was number one on YouTube's trending page for two days in a row despite being released days before the album was dropped. Utilizing soulful brass, jazzy piano chords, synths, and gospel-esque backing vocals, Healy and George Daniel, The 1975's drummer and producer, create a catchy, upbeat song that is also both mellow and smooth. Despite this, the lyrics tell a different story, with Healy singing about how people tend to mask their insecurities with a facade, only to realize that doing so will only create more conflict and confusion.
Arguably one of the more controversial yet also reflective songs, "I Like America & America Likes Me" is both an homage to Soundcloud rap and a political statement on gun violence in America. The autotuning of Healy's voice in this song serves to compress and punctuate it, turning his human vocals into another instrument. Additionally, it makes his voice sound more in tune with the cultural phenomenon that is the Soundcloud rap genre.
"The Man Who Married A Robot / Love Theme" is among the more unorthodox of the 1975's discography. It's a poem narrated by Siri's British voice, backed by the ambient playing of chimes and a piano. As soon as the poem ends, the second part of the song "Love Theme" begins with the blare of a horn as an orchestra begins to play, with crescendos of stringed instruments ebbing in and out as white noise hums faintly in the background. The song ends with a long decrescendo as each of the instruments drop out one by one.
Their next song, "It's Not Living (If It's Not with You", gives off an "80s high school dance" vibe, as if it belonged at the end of a movie akin to "The Breakfast Club". Despite its upbeat and retro sound, the song in fact depicts Healy's struggle with his addiction to heroin, similar to the song "UGH!" from The 1975's previous album, which depicted his addiction with cocaine. Having spent seven weeks at a Barbados rehab center in 2017, the song's depressing undertones juxtapose and are highlighted by the song's upbeat, pop-sounding melody.
Following this comes "Mine", a dizzying love ballad with heavy influences from jazz saxophonist John Coltrane. Despite its lack of lyrics, with only having three verses, the main highlight of the song is the soulful trumpet solo from the late Roy Hargrove, a hallmark, Grammy-winning American jazz trumpeter. The jazzy chords of a piano and delicate bowing of a violin accompany said solo, engrossing you in this feeling warmth and contentment.
"I Couldn't Be More In Love" is a heartfelt and powerful soul ballad dedicated to the band's fans.
"It's about what happens when no one cares anymore," Healy shared in an interview. Giving off a very strong 90s R&B energy, the song features a distinct electric guitar solo and shows off Healy's renowned raw and emotional vocals, along with a surprising key change at the very end.  
Concluding the nearly hour-long album is "I Always Wanna Die (Sometimes)". A cinematic, awe-inspiring ending to the album, "I Always Wanna Die (Sometimes)" summarizes life in 2018, what many could describe to be as a truly "online age". Healy's vocals are soft and light, as opposed to the previous songs' powerful sound. The chorus highlights his vocal technique, as Healy sings in a falsetto voice repeating the title of the song. As this goes on, the strumming of the guitars in the background slowly ramps up to a glorious conclusion as the song ends with a beautiful violin triplet.
Your donation will support the student journalists of Walter Johnson High School. Your contribution will allow us to purchase equipment and cover our annual website hosting costs.
About the Contributor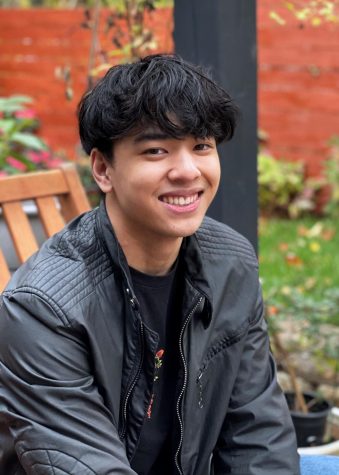 Benicio Balignot, Print Editor-in-Chief
This is senior Benicio Balignot's third year on The Pitch, this time returning as one of three Print Editors-in-Chief. When he's not perusing for new music...