Beloved "Ted Lasso" characters develop emerging into final season
One of TV's greatest shows, "Ted Lasso", is returning for its third and reportedly final season. The show follows AFC Richmond, an English soccer team, and its coach Ted Lasso. But there's a twist; upon his hiring, Lasso had not ever coached a single game of soccer. Instead, he had coached football, most recently leading an NCAA Division II football team to a title.
The show features a rotating cast of characters: recently divorced team owner Rebecca, star player Jamie, his girlfriend, Keeley, aging captain Roy (Brett Goldstein), kit man Nathan and more. All of these characters have taken different paths throughout the show, and with the new season, there are many questions to be asked and answered regarding their futures.
*SPOILER WARNING*
Ted Lasso
From dealing with divorce and moving continents to being tasked with coaching a new sport and a new team, Ted Lasso, the show's lead, has been put through the ringer. He's also dealt with additional mental health issues, media criticism and more. Throughout all of this, he has managed to remain the sweet and optimistic man he was introduced as. He has managed to improve others, create a strong team environment and eventually work through his own mental health issues and go to therapy. He's thawed through countless cold exteriors such as Rebecca and Roy. What's ahead of him, though, is uncertain. Will he be able to continue to improve his mental health? Will the betrayal of former friend Nate prove fatal? Will he be able to establish the newly promoted AFC Richmond as a contender in the Premier League?
Rebecca Welton
Rebecca has been through quite a bit as of late. Between her broken relationship with her ex-husband and the recent discovery that her newfound internet beau was actually Richmond player Sam Obisanya — the actors have a 20 year age gap — Rebecca has found herself lonely and uncertain. This is likely going to be complicated further by her ex-husband's acquisition of another Premier League team, West Ham United. Rebecca has proved throughout the series, however, that she is strong and able to persevere. With this and the support group she has in Richmond, Rebecca will likely come out of this season stronger than she was going into it.
Roy Kent and Keeley Jones
Roy and Keeley are, undoubtedly, the show's power couple. With the help of Keeley and Ted, Roy has blossomed in his retirement from soccer and taken a coaching position with Richmond. Keeley has journeyed into business, co-founding a dating app and opening her own PR firm. The couple's relationship has been perfect, except until the end of the second season. Keeley admits that her ex, Jamie, confessed he was still in love with her, and that Richmond assistant coach Nathan kissed her. In response, Roy mentions that he had spent three hours with his niece's teacher. Neither of these things were inherently cheating, but they seemed to shake Roy and Keeley, leaving their relationship in limbo going into the third season.
Jamie Tartt
Jamie Tartt is currently undergoing the epitome of a redemption arc. During most of his time on the show, Tartt has been an unlikeable and rude character, with a poor attitude toward his teammates and coach. Recently, though, we've seen another side of him: his problems with his father and newfound drive to improve. Jamie seems poised to continue this arc and finally complete his transformation from snarky, disrespectful soccer star to a more evolved, kind person.
Nathan Shelley
Nathan Shelley has been nothing short of a disappointment. In the final episode of season two, Nathan effectively backstabbed Lasso and broke his trust. Feeling excluded and neglected amongst the Richmond coaching staff, Nathan decided to take his abilities to none other than West Ham United, the team coached by Richmond's common enemy, Rupert. The new season will likely explain why Nathan made this decision, but may not result in him reuniting with Richmond. It's hard to hope for a redemption arc for Nathan after his betrayal.
With this season continuing the show's trend of weekly episode releases, the show seems poised for a prolonged, bittersweet farewell. While the departure of the show will be sad for many, including the show's actors, it will be exciting to see where the characters end up and how the show closes.
Your donation will support the student journalists of Walter Johnson High School. Your contribution will allow us to purchase equipment and cover our annual website hosting costs.
About the Contributor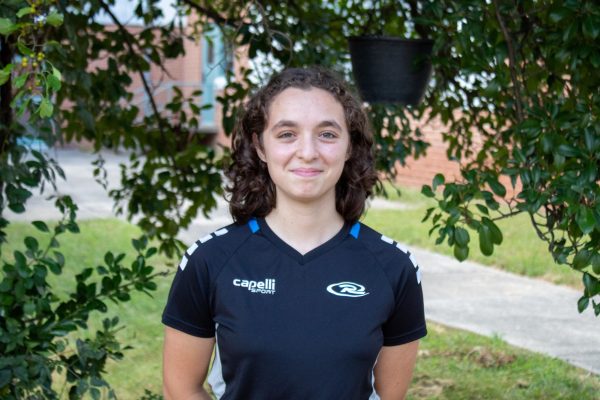 Mia Halper, Senior A&E Editor
Junior Mia Halper is thrilled to be in her third year with the Pitch as Senior A&E Editor. She's an avid fan of the Washington Capitals and plays soccer.