"Saturday Night Live" returns from home to provide laughs during a difficult time
Every late-night show has been put in a difficult place by the COVID-caused closures. But unlike almost any other show, these closures presented Saturday Night Live with a unique predicament because, well, it's live. So what were they going to do? The March 28 episode, originally planned to be hosted by John Krasinski with musical guest Dua Lipa, had already been canceled. Well, as any performer knows, the show must go on. On April 9, it was announced via Twitter that a new episode––Saturday Night Live at Home––would be airing just two days later. That episode, hosted by Tom Hanks, was a success. It served its purpose: to make us laugh during these difficult times. So it made perfect sense to air a new SNL at Home episode on April 25.
On April 10, just a day before the first SNL at Home, Dr. Anthony Fauci, director of the National Institute of Allergy and Infectious Diseases, appeared on CNN for an interview with Alisyn Camerota. As the interview was wrapping up, Camerota concluded by asking Dr. Fauci who, if he had a choice, would he want to portray him on SNL? "Oh, Brad Pitt, of course," he responded. Fast forward two weeks and the actor portraying Dr. Fauci in the cold open is none other than Mr. Brad Pitt. Delivering a solo, monologue-esque performance in the cold open, Pitt dispelled some of Trump's recent claims regarding the virus, before breaking character at the end by pulling off the wig to thank the real Dr. Fauci and all of the essential workers.
Unlike the April 11 episode, there was neither an official host nor a musical guest for this episode (as would typically be featured in the opening titles). To fill the void, various celebrities cameoed in many different sketches throughout the night. Brad Pitt in the cold open, Charles Barkley and DJ Khaled in the What Up With That: At Home sketch (the first WUWT since 2012), Adam Sandler joining cast member Pete Davidson in the Stuck in the House music video, and Paul Rudd in the FaceTime with Rudd sketch. And despite the absence of an official musical guest, Miley Cyrus appeared to perform a cover of Pink Floyd's "Wish You Were Here".
After complaints about the "Zoom audience" from the previous episode, this segment of Weekend Update Home Edition was performed in silence. Personally, I didn't really mind the laughter, and I thought the silence was definitely a bit weird. In front of green screens with the typical WU world map, anchors Colin Jost and Michael Che discussed President Trump's disinfectant comments, whipped strawberry milk, the Land O'Lakes logo, and, bringing out Pete Davidson to join them via Zoom, the New York City Health Department's "Sex and Coronavirus Disease 2019 (COVID-19)" document.
Almost every cast member had their moment to shine in the nearly 20 different sketches of the evening. Some, like Kyle Mooney in What's My Name? portrayed multiple different versions of themselves at the same time. Others, like Aidy Bryant and Kate McKinnon in Grocery Store Ad (my personal favorite sketch of the episode), were able to act in sync and make the sketch work coherently despite not being in physical proximity to one another.
This episode wasn't perfect, but few are. As with most Saturday Night Live episodes, the majority of the sketches elicited a laugh, with only a couple coming off as truly weird or unfunny. And the production quality is still quite good, much better than one would expect for an episode produced from home. But at the end of the day, this episode, like the April 11 one before it, served its core purpose: to make us smile and laugh and as we plow our way through these difficult times.
About the Contributor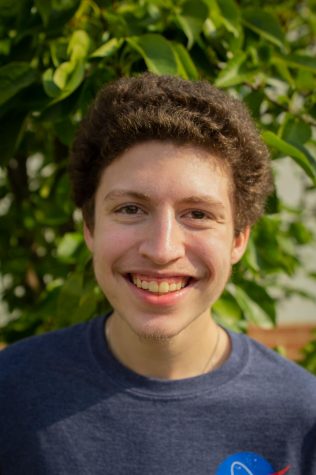 Rafael Friedlander, Layout/Press Copy Editor
Senior Rafael Friedlander is excited to be returning to the Pitch for his third and final year, continuing as Layout Editor and now assuming the additional...