Album Recap: 2021 Edition
2021 has been an extremely fruitful year for music. Some of the biggest artists across several genres have put out exciting albums throughout the months. Unfortunately, audiences often suffer from recency bias, meaning they tend to forget about albums dropped earlier in the year. Consequently, my look back at 2021's best albums includes works from throughout the year.
5. "Happier Than Ever"
Starting off this list is Billie Eilish's "Happier Than Ever." Compared to Eilish's debut album, "When We All Fall Asleep, Where Do We Go?," "Happier Than Ever" represents a massive tonal shift. Her move away from dark and depressive beats and lyrics to more airy, albeit still melancholic, ideas has left some critics scratching their heads. However, I personally love this shift. Modern artists often focus on one style and never deviate, which makes their music stale. Eilish's movement from one sound to another signals a welcome change in her music and proves that Eilish isn't sonically limited to one genre. The only reason this entry isn't higher on the list is that the songs tend to get repetitive.
Best song: "Happier Than Ever"
Most underrated: "Halley's Comet"
4. "Montero"
This album is the ultimate clapback to those who thought Lil Nas X was bound to be a one-hit wonder. As his first full-length studio album, "Montero" feels like a victory lap: it lets Lil Nas X prove that his creativity goes beyond just one song with multiple remixes. The true genius of this work isn't the pounding victory, it's the vulnerability. Songs such as "Dead Right Now" and "Lost in the Citadel" give listeners an intimate view of all the anxiety and pain the musician faces. This intimacy connects him to the audience and makes the album a near masterpiece. Combined with Lil Nas X's provocative marketing, this album is here to stay.
Best song: "INDUSTRY BABY"
Most underrated song: "LOST IN THE CITADEL"
3. "Sour"
Olivia Rodrigo's breakout album "Sour" is chock-full of 2021 anthems. Smash hits "Drivers License" and "Good 4 U" are powerful breakup songs that have resonated with audiences everywhere, and "Sour" also calls back to the early 2000's post-pop-punk era. In songs such as "Brutal," Rodrigo expresses her anger at society; in songs like "Traitor," she reveals her more emotional side with lyrics about pressure affecting her life. Although towards the end of the album, the songs begin to get repetitive, "Sour" still gives Rodrigo an amazing jumping off point for future releases.
Best song: "Good 4 U"
Most underrated song: "Traitor"
2. "Call Me If You Get Lost"
Tyler, The Creator is back and as powerful as ever. Coming off his critically acclaimed album "Igor," expectations were high for this release, and "Call Me If You Get Lost" doesn't disappoint. This album follows a similar theme of unrequited love and failed romances, but it doesn't singularly follow these themes. His main idea is about his feeling of being, well, lost. Lyrics about money, clothes, cars and things develop the idea that Tyler just wants happiness, but it keeps evading him. Sonically diverse and lyrically deep, "Call Me If You Get Lost" is a benchmark for future Tyler releases.
Best song: "WUSYANAME"
Most underrated song: "LEMONHEAD"
1. "Donda"
The number one spot goes to Kanye West. After a five year drought of full-length Kayne projects, "DONDA" demonstrates Kanye's ability to create a project with a dynamic sonic theme. This album is about the death of Kanye's mother, Donda West, and the pain and suffering that Kanye subsequently dealt with. The album's lyrics focus on devotion to God and changing for the better. "DONDA" also boasts a star-studded cast, including Jay-Z, Travis Scott and Playboi Carti. As the most sonically diverse and lyrically creative work of 2021, "DONDA" is undoubtedly the best album of this year.
Best song: "Off the Grid"
Most underrated song: "Keep My Spirit Alive"
Your donation will support the student journalists of Walter Johnson High School. Your contribution will allow us to purchase equipment and cover our annual website hosting costs.
About the Contributor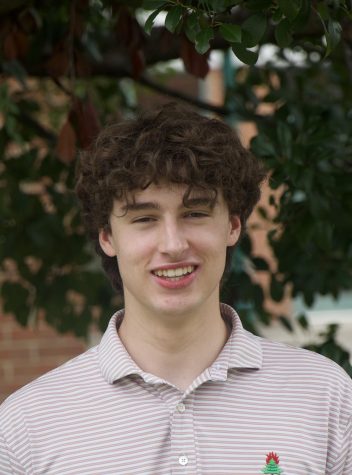 Baxter Roberts, Print Opinion Editor
Baxter Roberts is the Print Opinion Editor for the pitch. He enjoys rowing crew for WJ and hanging out with friends.