Gym class isn't worth it
In MCPS, physical education class is required for high school graduation. But for a significant portion of students, P.E. is viewed as a waste of time. The zeros they receive are causing students to fail P.E., a problem in and of itself, but should this cause their diploma to be held back for another year?
From what I remember, elementary school P.E. class was fun. Each day of the week students would line up to walk through Farmland Elementary's hallways following the motto, "second tile with a smile." Twenty or so smiling kids would walk through the door to their favorite class that was occurring that day. It never seemed to be a problem for anyone who walked into the gym to see dodgeball had been set up. In fact, it was probably the best part of each of our day.
Entering sixth grade no one knew what to expect. On the first day of gym class, we sat on the floor and filled out forms to order uniforms. A t-shirt and mesh shorts of your school colors. I remember taking a tour of the girls' locker room and thinking it was the most intimidating place to be. "Bring them home every few days to wash," we were told. "Do NOT forget deodorant!" they emphasized. "Choose a buddy to have your locker near." As if that made us less vulnerable to change in front of people every day.
Coming from the locker room into the gym, we would wait to hear what activity was planned for that unit. Archery, basketball, soccer, I remember always taking my sweet time to get in line, the back of the line. In the meantime, there was a new kid each week addressing their teacher saying they felt sick and could not participate or that they had hurt their ankle. Interval training was on Friday; that's supposed to be the best day of the week. No one wanted to run that mile or line up for the pacer test. It was embarrassing for those of us who were waited on because we ran too slow and didn't cross the finish line within a certain amount of time. Not only was it embarrassing, but those who weren't in the correct range for their age/weight class received a lesser grade.
In high school, we are required to take one full year of a P.E. class to receive a credit to graduate. Students have the options to choose between a variety of P.E. classes, such as yoga and weight training. Due to the situation everyone is in, we've been learning online. It is questioned whether or not students have been participating. Normally, a student's participation in the class determines their grade. If you fail the class due to a lack of participation, you must retake the course. With cameras off and the shortage of equipment, how are students able to ensure they will pass? We don't know. Are teachers changing the way they teach? Are they requiring you to buy weights and train after school? We don't know. Should they be judging our fitness participation during times like these? No. It's impossible to judge what each individual student is going through. A teacher might ask you to get up and stretch or lift your dumbbells within a certain amount of time, but as a student, I know most of us are laying in bed pretending.
Do you think gym class is worth it?
Sorry, there was an error loading this poll.
As a whole, it is hard to make a decision about if gym class is necessary. It is necessary for kids to get exercise, but they may prefer to do it on their own time. It isn't necessary to waste teachers' and students' time in an online classroom environment. It isn't necessary to make students feel judged if they don't want to participate in a physical activity that will determine their ability to graduate or receive the credit. I don't speak for all, but would you feel upset if gym class was no longer mandatory? Or would it be a relief? I know I would be relieved.
Your donation will support the student journalists of Walter Johnson High School. Your contribution will allow us to purchase equipment and cover our annual website hosting costs.
About the Contributor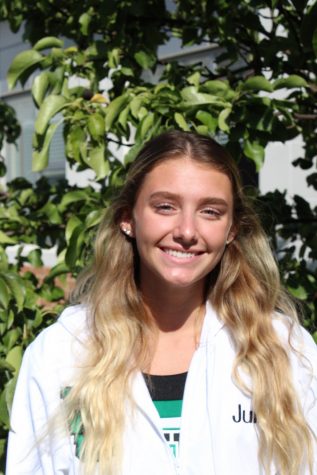 Julia Garms, Print Opinion Editor
This is Julia Garms' first year on the Pitch as a Print Opinion Editor. She is excited to produce articles for the WJ community to read and enjoy. In addition...