Club Takes Matters of the Heart into Their Own Hands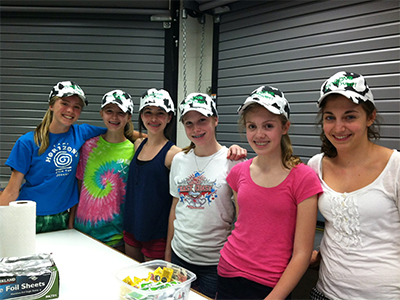 Hang on for a minute...we're trying to find some more stories you might like.
Though it has only been active for a couple of years, the Heart in Hand Club has already accomplished a lot.
The club works to raise money to donate to the American Heart Association, a Texas-based non-profit organization, focuses on reducing deaths and other difficulties caused by stroke and cardiovascular disease.  The group made $500 through concessions and fundraisers last school year, and plans to raise $1,000 this year.
The members plan to start out fundraising by having a bake sale on Oct. 12 at the Giant supermarket at Cabin John.
The club takes its name from the symbol used in the American Heart Association's advertisements.
The club's president, junior Sarah Caggiano, said they are looking into other associations that the club can support.
"The main group that we donate to is the American Heart Association, but we're also looking at other cardiovascular research centers to donate to right now," she said.
Caggiano started the club two years ago, inspired by her family.
"I have a lot of relatives in my family who have had heart disease, and I thought if there's a way I can give back… then I should do that," she said. Her interest in helping those with heart disease started when she entered high school.
Club secretary, junior Carly Federman, joined the club during her freshman year, after she first heard about it. She wants to raise awareness for other diseases eventually.
"I have [friends and family who have had] experience with other diseases, so I might want to start my own club for that," said Federman. She said that she has enjoyed her experience in the club thus far.
"It's fun getting other people involved," said Federman.
The club meets biweekly on Mondays during lunch, in room 191.