Mock Trial Makes Playoffs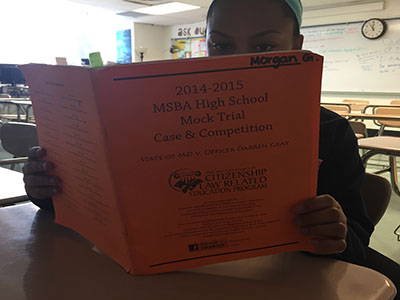 Hang on for a minute...we're trying to find some more stories you might like.
The Mock Trial team is among the most articulate competitive teams at WJ, requiring participants to cultivate arguments and provide adequate evidence, all in the style of a traditional courtroom.
Most recently, the team beat Churchill, advancing to the playoffs. They hope to  make it to the circuit finals, where schools from Frederick and Montgomery counties compete.
In previous years, they have made it to the circuit semi-finals.
Nathan Schwartz, a history teacher and one of the Mock Trial coaches, praised the current participants for their work.
"They're hard workers, they're self-starters… they understand what they need to do, whether [they're] a witness or a lawyer," said Schwartz.
In a Mock Trial competition, each school team is split into groups: prosecution and defense. One side from each school goes against the opposing group from the other school in a simulated trial. Students are assigned positions typically seen in a courtroom, such as a witness or a lawyer.
Each side tries to win the case, and a judge assigns points to each team based on its performance. The team with the most points wins the competition.
Being a member of the team is enjoyable, according to junior Morgan Grizzle.
"The people in it are really fun… plus, it's fun looking at all these different cases and seeing how to present arguments," said Grizzle, who joined the team a year ago.
However, she believes that it takes a lot of hard work to be on Mock Trial.
"[As a witness] you have to memorize all the questions you're going to be asked by the lawyer from your team,"said Grizzle. She said that being a lawyer is also hard work.
"Lawyers have to be flexible, like know when to object…. also, the other lawyers on the other team can be sassy or headstrong," said Grizzle.
Schwartz said that simply being in the playoffs and possibly advancing to semi-finals is an honor for the team.
"We're always happy when we make it into the playoffs… if we [are] able to advance to the semi-finals in this situation, that would be an incredibly successful season," said Schwartz.

About the Writer
Leila Siegel, Online Feature Editor
This is senior Leila Siegel's second year on The Pitch Online as the Online Feature Editor. Besides writing articles, Leila participates in the school's...