Film Club directs new path for the school year
A big screen, a story, a place to sit down and snacks. Something all teenagers can gravitate towards. Films bring crowds, delight and an escape from reality. But can this experience be replicated in school?
Five WJ students come together for a club where students can share their love for films, be collaborative and have a safe space for everyone. The WJ film club holds their meeting every other week, Wednesday or Friday in the photography room. Their goal, make a short film by the end of this school year.
Club president junior Nicole Weaver came up with the idea when she found out there were no clubs that met her interests. With a couple of friends, she decided to make her own club for people who share the same passion for film. Club sponsor and photography teacher Daniel Kempner was excited when Weaver brought this idea to him. He loved the concept of the film club and was totally in to contribute.
Kempner also has previously taught film production at WJ. "I'm happy to have everybody meet in my room and share any ideas with the students that are interested," Kempner said.
The club also involves junior vice president, Raquel Daley. Junior officers, Charlotte Brown, Janaiyah Inniss and senior treasure Josephine Meriot. All sharing the same passion for films. "Me and my friends both just, we all just really love films and we always watch films together. Whenever we hang out it's always the main thing we do," Inniss said.
With the return of in-person learning, the club officers are planning to bring back things they couldn't do during quarantine. The club initially started during COVID-19 quarantine. Club meetings were held on Zoom. It wasn't easy for them to connect with each other online. "We realized that this club is only stronger when we are in person and able to connect face to face," Weaver said.
The main goal of the club is not only to have a place for people who share the same interest but also to be more collaborative. Their motive is to explore the aspects of the film that others enjoy, editing, directing, acting, lighting or production crew.
Another goal they have is to make a short film with the possible help of club members by the end of the school year or during the summer. Their plan is to write a script during the club meetings with everyone's collaboration. "The club is not only about movies but also a way to meet new people which is the most important part of our club mission. We revised over COVID our goals for this club and realized how important it is to have connections with people who share the same interest as you. This is the perfect Club to join if that is what you were looking for," Weaver said.
The club held its first interest meeting on Oct. 1. The purpose of the meeting was to be familiar with what the club is about and what are the future club plans. Inniss was concerned if people will show up. Later, the club leaders were extremely surprised by the member's turnout. The classroom was almost full. There were even people that were standing in the back because they didn't have enough seats.
Though the officers are not planning to stop. Their ambition is to grow bigger and have a better collaborative environment attracting members from all grades. They want students to have a more interactive engagement with the making of the film so everyone can have fun while learning. "I just want the school to have more things that the students can have a hold on, actually be involved in hands-on things that involve cameras or lighting," Inniss said.
Kempner was impressed with the enthusiasm the club leaders share. He talked about how well organized they are and how they have well-crafted powerpoints for meetings. Kempner wasn't the only one impressed by the officer's enthusiasm but even the club members. The officers were engaging, interactive and made sure everyone was comfortable. They used a ball and threw it around the room. Whoever caught the ball had to introduce themselves and tell what was the last movie they watched? "It's a great thing to do Friday at lunch, but they should make it every week instead of every two weeks," junior member Kiki Gazit said.
Some members enjoyed the immersive and friendly environment the club shared. "So far it's been a pretty cool and fun experience. The community is so positive and I enjoy seeing people at the meetings. Whenever any of us mentions a movie, most of us know it. If someone doesn't know the movie, we don't make fun of them, we explain the plot, actors/actresses in the movie and sometimes spoil the ending which is funny," junior member Bryan Kibet said.
Your donation will support the student journalists of Walter Johnson High School. Your contribution will allow us to purchase equipment and cover our annual website hosting costs.
About the Contributor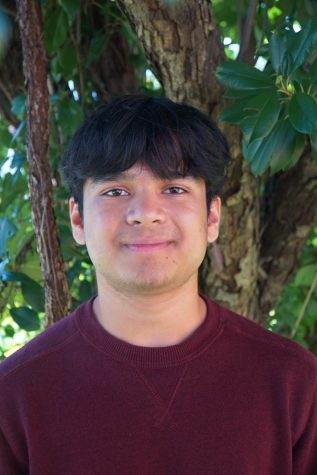 Ishaan Ramola, Photography Editor
Ishaan is a senior, and he's the Photography Editor for the Pitch. He loves to watch movies, take photos and videos in his free time.