Academic Clubs March Recap and Preview
Debate
There are a total of 27 debate teams at WJ consisting of pairs who compete against other schools and each other, meeting weekly every Tuesday. Two pairs from WJ, one featuring Wren Weinstien and Riddhi Sadhallana, reached the semi-finals and competed March 15 at Montgomery Blair High School. The competition follows a bracket style tournament where the lowest ranked team plays the highest ranked team and so on. If they win all three debates they compete in the finals the next day, March 16. In debate, you're given a topic one month in advance of the competition. One must study both sides of the argument as it's unknown the side you're assigned till the day of competition. After an intense argument, a judge decides a victor based on the strength of the arguments. After the finals are completed the debate team will celebrate with an end of season party for their members.
"You get to learn about a lot of things that help you in life, as well as helping you in general conversations," debate member semifinalist Weinstein said.
HOSA
HOSA stands for Health Occupations Students of America. The club is for students that want to pursue careers in the medical field and want to learn more with other students. They meet biweekly on Wednesdays during lunch. There are a variety of ways HOSA helps students explore their medical topic and/or interests, whether it be through tests, competing and collaborating with others. Students also participate in meetings with medical professionals which is a great help, Competitions go on frequently and are held online. Students take medical and health science based tests and those with the highest scores move on to the next round whether that be counties, states or nationals. HOSA has several branches in high schools all over America with WJ being just one of many. Currently WJ is competing in the state competition with high hopes of reaching the national finals in Texas.
"My favorite part of HOSA was meeting people with similar interests in the medical field," WJ HOSA president Joeli Serra said.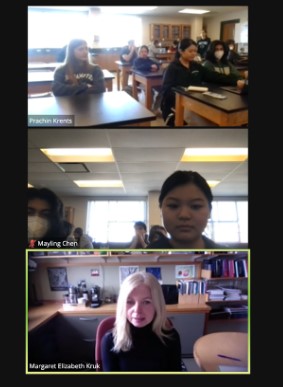 Math Team
The Math Team has had multiple competitions over the school year, and is confident moving forward as they keep competing for another top finish. The club makes sure it's content is accessible to math students in all classes as many have differing courses. This is made apparent to those in leadership positions, so they attempt to teach generally at first and then branch out from there. Math is taught every Tuesday in a lecture format at first, but it eventually shifts into introducing students to different math topics they become interested in so they can grow and explore further into their topic of interest. Most competitions were on the county level, with WJ's best finish being third. They also have competed in the famous AMC (American Mathematics Competitions) where a member got into AIME (American Invitational Mathematics Examination) for the first time in a few years. The Math Team competed in the UMD math competition as well where two members achieved second round status. The season isn't over though as there are more competitions ahead such as the Purple Comet, the UPenn competition and Math Kangaroo where the team remains steadfast. Most competitions are held at WJ or on Zoom, while others are in person and held at BCC and Whitman.
"My goal this year was to have the Math Team feel like a math family at school and I think it worked. I love seeing the progress and passion from my teammates in their math abilities as well as our social skills as we keep working together," Math Team president Camilla Digoussar said.
Your donation will support the student journalists of Walter Johnson High School. Your contribution will allow us to purchase equipment and cover our annual website hosting costs.