Wordle has won the hearts of the student body
Wordle has reached the walls of Walter Johnson High School, and students are going crazy. They eagerly wait in suspense for the new word of the day. "Have you gotten the word yet?" is often heard amidst chatter in the hallway.
"Yes, so much suspense! I love it! I yell at people not to tell me the word if they've already done it," senior Danielle Corwin said.
Wordle is an online word game created by Josh Wardle, released in October 2021. On January 21, the New York Times bought the rights for the game. Wordle differs from other word games. It requires one to think outside of the box and explore the endless possibilities of words.
Students like how Wordle is simple, fun, easy and doesn't get boring.
"I think it is better than other crossword puzzles because you only get one puzzle a day. With other puzzles, I get sick of it so fast because I play it all day. With wordle, we can only play one puzzle a day so we won't get sick of it. Also, after you finish a puzzle, it shows your streak of how many you played, motivating you to play every day," junior Brooke Levin said.
However, some think that its simplicity and lack of guidance make it one of the harder word games out there. These limited instructions leave a lot of room for imagination and trial and error.
"When comparing wordle to crosswords, I think that Wordle can be seen as more challenging and more fun as it is more imaginative," senior Alejandro Linares said.
In the game, six attempts are given to solve the word of the day. When the letter turns green, it means it's in the right spot, yellow means it is in the wrong spot and gray means it's not in the word. Unlike most word games, Wordle uses the same word for all players, making it a fun competition amongst friends. It is also a great conversation starter and a way to make new friends.
"100% it gives me excitement. I love that the word of the day is the same for all users too. it makes it a fun competition and conversation starter to ask "Do you play wordle? Did you get the word of the day?" Levin said.
The game's addictive nature has altered the sleep schedules of some students. Staying up until midnight just to be the first to solve the next word. mess up their sleep schedule just to be one the first to solve the word of the day.
"Sometimes I even stay up until midnight so that I can play the next game," Linares said.
Those who love word games or are looking for something new and want a challenge, will enjoy Wordle.
"I recommend it! It's so much fun and easy to understand how to play," Corwin said.
About the Contributor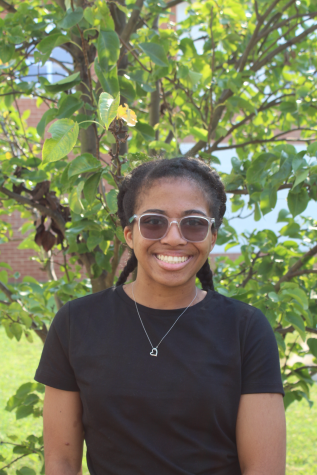 Summer Laird, Layout and Design Editor
Summer Laird is the Layout and Design Editor. She likes to travel and try new foods.