Junior battles for her spot in states this winter track season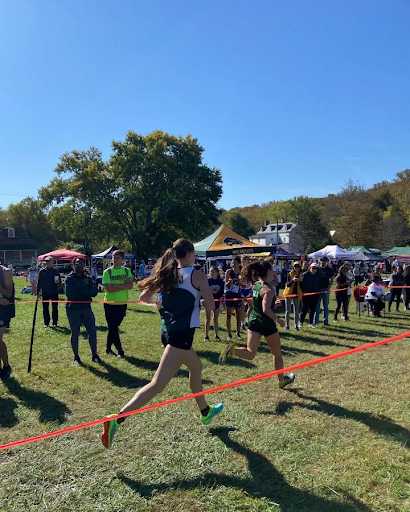 Junior Elizabeth Fogg readies herself for the 3200-meter race. She narrows in on her path ahead, ready to cut the time needed to get closer to her main goal: qualifying for states. As the starter raises his pistol to the sky, Fogg inhales and shifts her weight to her back leg. The shot is fired, and the race has begun; Fogg puts her practice to work as she descends around the track.
Fogg's winter track season has kicked off to a great start as she has overcome many personal milestones and broken many personal records. Fogg's specialty is the 3200-meter race, which is two miles. The qualification for states is a 3200-meter time of 11:53 minutes. Fogg is sitting at a time of 12:31. In running, 24 seconds is a lot of time to cut out — Fogg has already cut out a minute after training for around a year. She runs between four to seven miles each day to reach her goal.
"My goal right now is to qualify for states at the regional meet," Fogg said.
Fogg has many strategies for building speed. After dropping 26 seconds in two meets, Fogg's strategies appear to be working. She attends track practice after school and trains vigorously on the weekends. In total, she runs anywhere between 25-30 miles a week. This training has allowed Fogg to be ranked 7th in the region, 9th in the county, and 17th in the state for the 3200-meter race.
"Mind over matter. Through lots of speed work at practice and learning that I can mentally push myself in races farther than I think is something that I continue to grow through and discover," Fogg said.
Fogg works to maintain healthy relationships with her teammates and friends on the team. Swimming, in her opinion, was cliquey because of the separation between heats. In track, the team feels united and spends more time bonding and running. Fogg met her best friend, Morgan, on track in freshman year, and since then, she has continued to run and meet new people.
"Beth is one of the most hardworking people on the team and always comes to practice! Even on the coldest days, she makes everyone smile!" junior Mogan Skibo said.
Track season is time-consuming, and with rigorous course loads, a balance between running and school is essential for success. Fogg strictly schedules her time to ensure she excels in her classes and is on track. Practice is essential for improvement, so Fogg hasn't missed practice this season.
"She is a very determined young lady with plenty of accomplishments ahead of her. An absolute joy to work with and very fast. She is an essential part of the team," Coach Thomas Martin said.
Fogg is not recruiting for college but is continuing to give back to her team in her high school career. Fogg's relationship with running is personal; she does not want college to ruin her positive view of running.
"From knowledge of how many elite runners at our school have pursued running in college and how it ruined running for them, I think I'll run on my own to keep it as my escape from school work," Fogg said.
Your donation will support the student journalists of Walter Johnson High School. Your contribution will allow us to purchase equipment and cover our annual website hosting costs.