Forensics Team Receives Top Honors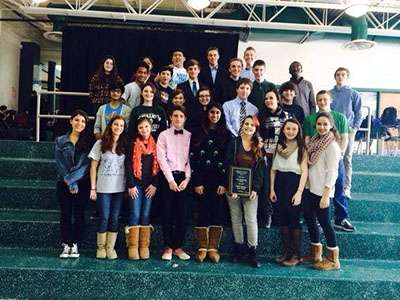 Hang on for a minute...we're trying to find some more stories you might like.
This fall the National Speech & Debate Association (founded as the National Forensic League) has awarded WJ's forensics team, ranking it among the top 10 percent of high school forensics teams nationwide. The team has also become a member in the Association's elite 100 Club, because the team earned 100 or more titles last year.
The forensics team participates in regional competitions that put students public speaking skills to the test. They compete in multiple tournaments in categories such as Humor, Drama, and Poetry.
The winner of each tournament advances to the one of the next four rounds, eventually earning points and getting first place, if lucky.
WJ has previously won the title several times, and also placed first in county championships 13 times since 2001 (WJ won second place in 2012-2013).
One of the team captains, senior Naina Thangada, said she was only slightly surprised that the forensics team received such an honor, as the team has won the award several times in the past.
"[I was] a little bit [surprised], but at the same time we've placed a lot," said Thangada.
The team's coach, William "Rusty" McCrady, said he was glad they won the award again.
"We've gotten [the title] [for] several years, and it's because we have a growing and very large program," said McCrady.
Thangada said that the team has come this far simply because of its talent.
"[There are] a lot of great members… most of us qualify [to get an award]," said Thangada.
McCrady said that, though his team has often received awards, the point of forensics competition is not to try to get high honors, but to do well in local tournaments.
"You don't try to do honors, you try to do well in a local league… and that's a matter of getting people involved… and hoping they make a commitment," said McCrady.