WJ Football Sports Camouflage Jerseys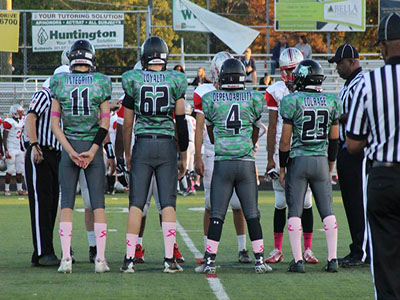 Many students saw members of the football team wearing new jerseys at school on Friday. These uniforms were different from the team's usual, white-numbered uniforms; these new jerseys featured a camouflage theme.  The team's regular jerseys do not have last names printed across the back, but the camouflage jerseys featured different traits for the football players to think about on the field.
Endurance, unselfishness and enthusiasm were some of the traits featured on the back of the jerseys.  They are similar to the jerseys the Air Force Falcons football team wears that say "service" on the backs instead of the last name of the player.
Coach Greg Kellner wanted his players to remember the reason for wearing the jersey's; to think about those who fight for our freedom everyday.  Junior football player Michael Mahdavi said this gave the team deeper appreciation and respect for the uniforms.
Four WJ players lined up for the coin toss before the Homecoming game against Northwood in the new uniforms. (Photo Courtesy of Sarah Shecker)
The team beat Northwood at the Homecoming game in the camouflage uniforms.  However, when they wore them again against Whitman on senior night, the team didn't come out on top, losing 50-24.